As Southeast Asia's premier equestrian facility and horse-riding academy, one might wonder how the Singapore Turf Club Riding Centre (STCRC) grooms the next generation of aspiring equestrians in Singapore.
The answer could very well lie in STCRC's team of dedicated instructors. This Teachers' Day, we shine the spotlight on the centre's trio of riding gurus: Chief Riding Instructor, Roy Ibrahim, and Riding Instructors, Lingesparan Suppiah and Adi Sebli.
With a collective experience spanning over four decades, Roy, Linges and Adi represent a dedicated community of experienced riding instructors. Roy is a certified Fédération Équestre Internationale (FEI) Level 3 Coach and an established equestrian who competed in many international competitions. Both Linges and Adi are National Coaching Accreditation Scheme (NCAS) Level 1 Coach and Linges also adds SEA Games 2007 Silver medal to his accolades.
Together, the trio is raising the STCRC equestrian bar by amalgamating their collective experience to develop robust and comprehensive riding programmes specially curated for riders of all levels, from novice to advanced, amateur and professional. Our instructors hold a shared passion — to nurture and guide aspiring horse riding enthusiasts and talented equestrian riders. Laudably, several of their students across nationalities and ages have gone on to win in major equestrian competitions, an accomplishment the instructor trio shares with pride.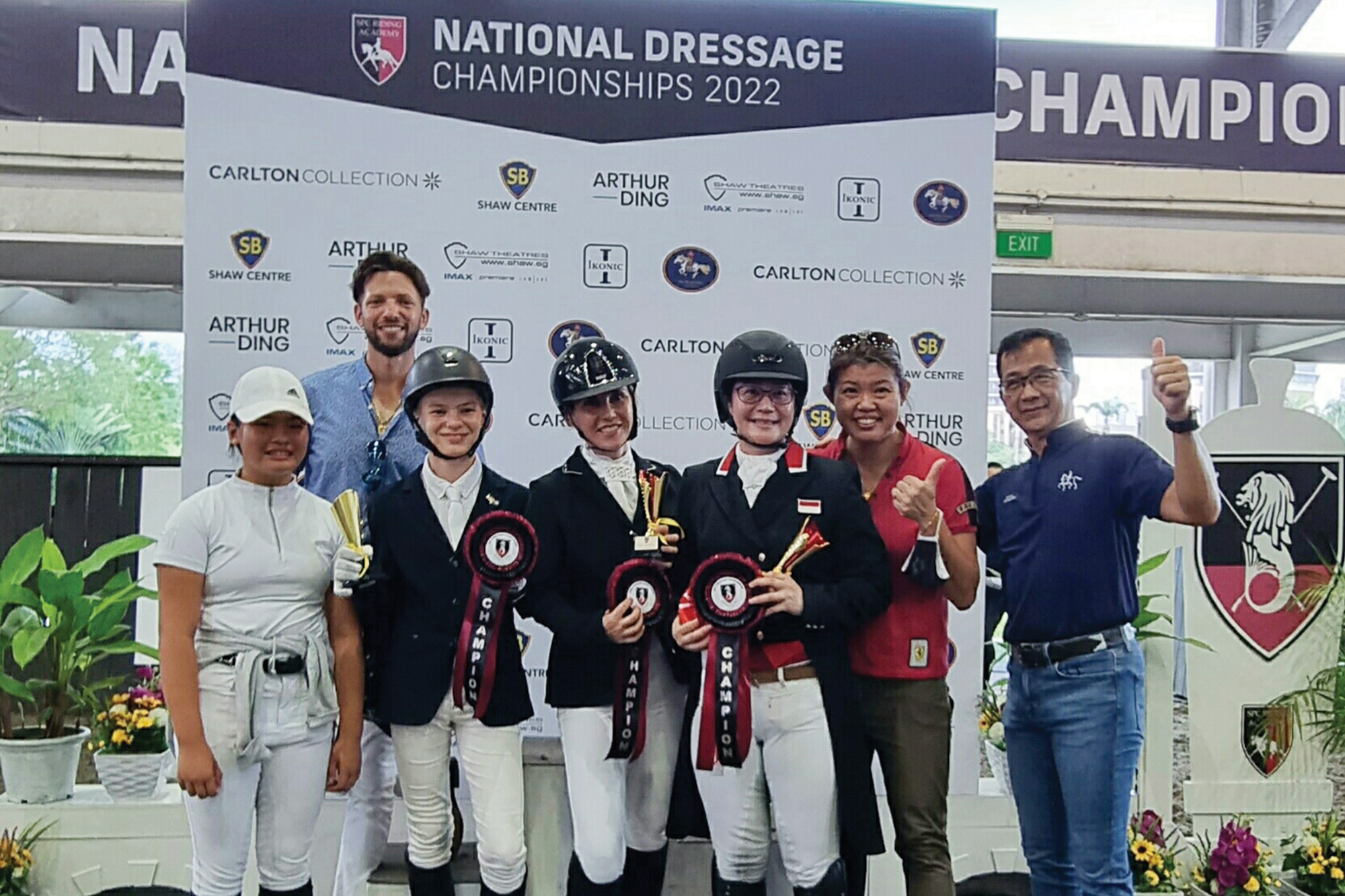 Winning STCRC riders at the National Dressage Competition (middle from left to right) - Clemens Tilkorn for Novice Class, Inge Kuipers for Medium Class and Audrey Njoto for Small Tour, seen here with Roy (far right).
Fostering Riding Potential and Abilities
Horse riding is a unique sport where the synergy between riders and their horses is vital; both have to move as one.  Beyond teaching riding skills, our coaches also impart critical knowledge on horses and body language, to maximise both the athlete and the horse's performance, potential and chemistry.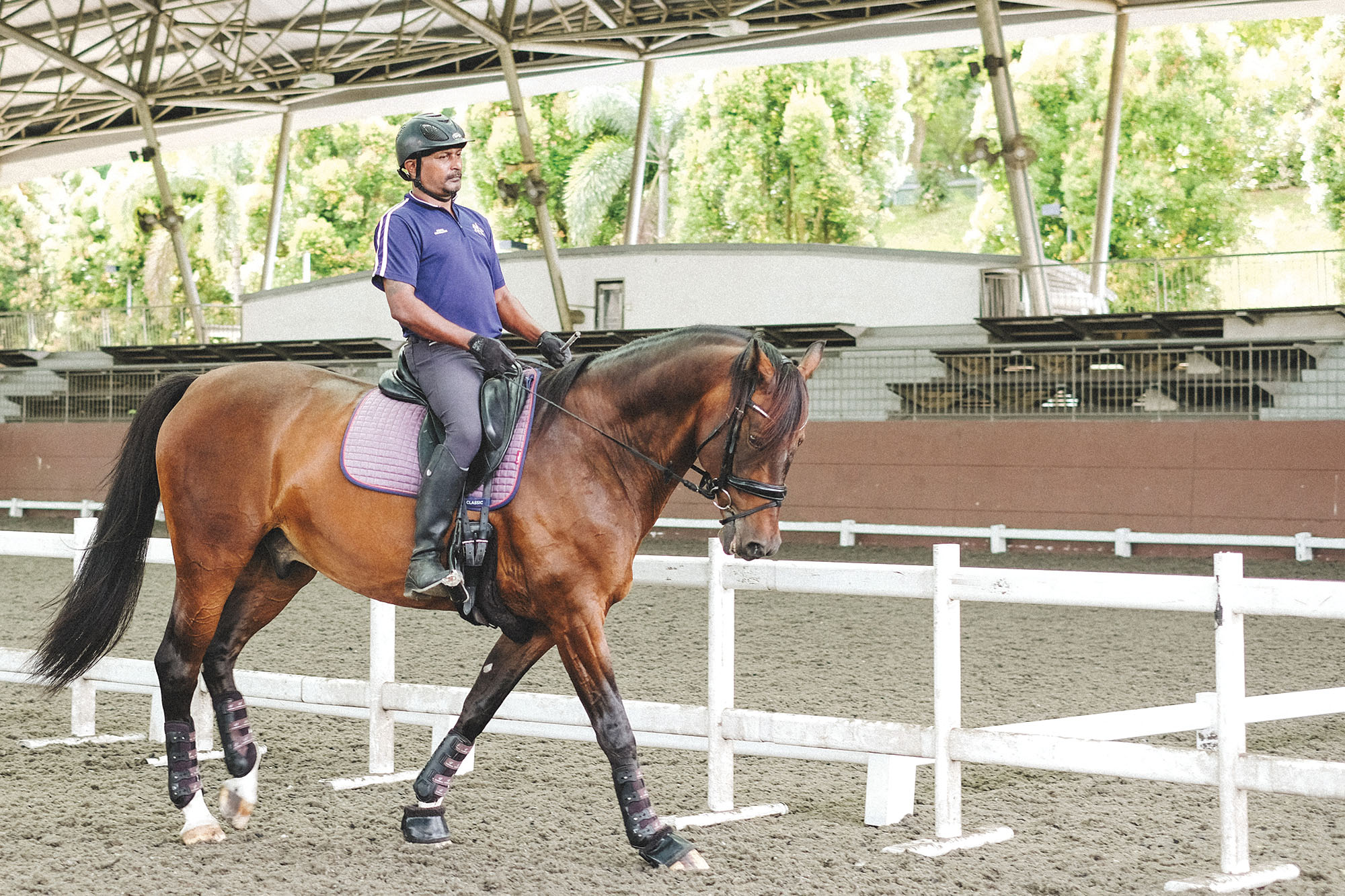 "There is no shortcut to learning anything. Like most sports, the more you practise or ride in this case, the better you'll get," Linges shared.
Special care is given to first time STCRC riders who attend a riding assessment conducted by our coaches to ascertain their ride competence and ensure they set off on the right foot. Lesson plans are specially designed to fit students' riding experience with periodic evaluations to keep riders suitably challenged as they advance to the next riding level.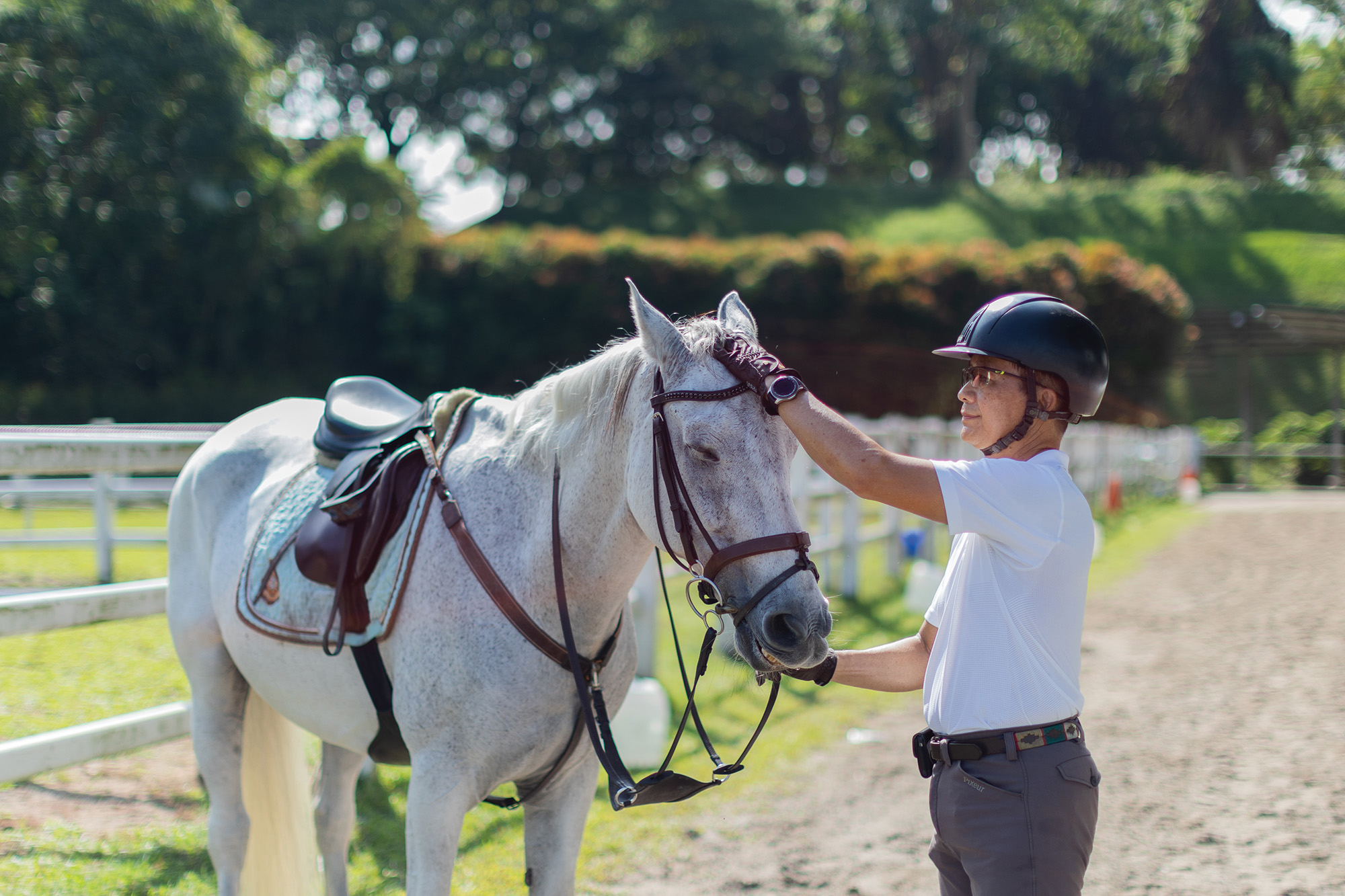 "Developing and refining one's equestrian abilities takes time and effort. It is critical that we focus on the fundamentals at the beginning phase, to lay a solid foundation for a successful riding journey," said Roy.
He added: "I think it's essential for coaches to adjust their teaching methods and pace to cater to the unique needs of each student. Different students have different learning curves and adapting to their pace will help them improve their riding performance." 
A student of Roy, Rachael Leong has won numerous competitions in Singapore and has her sights set on the international stage with the 2019: Cat C World Jumping Competition among her biggest wins.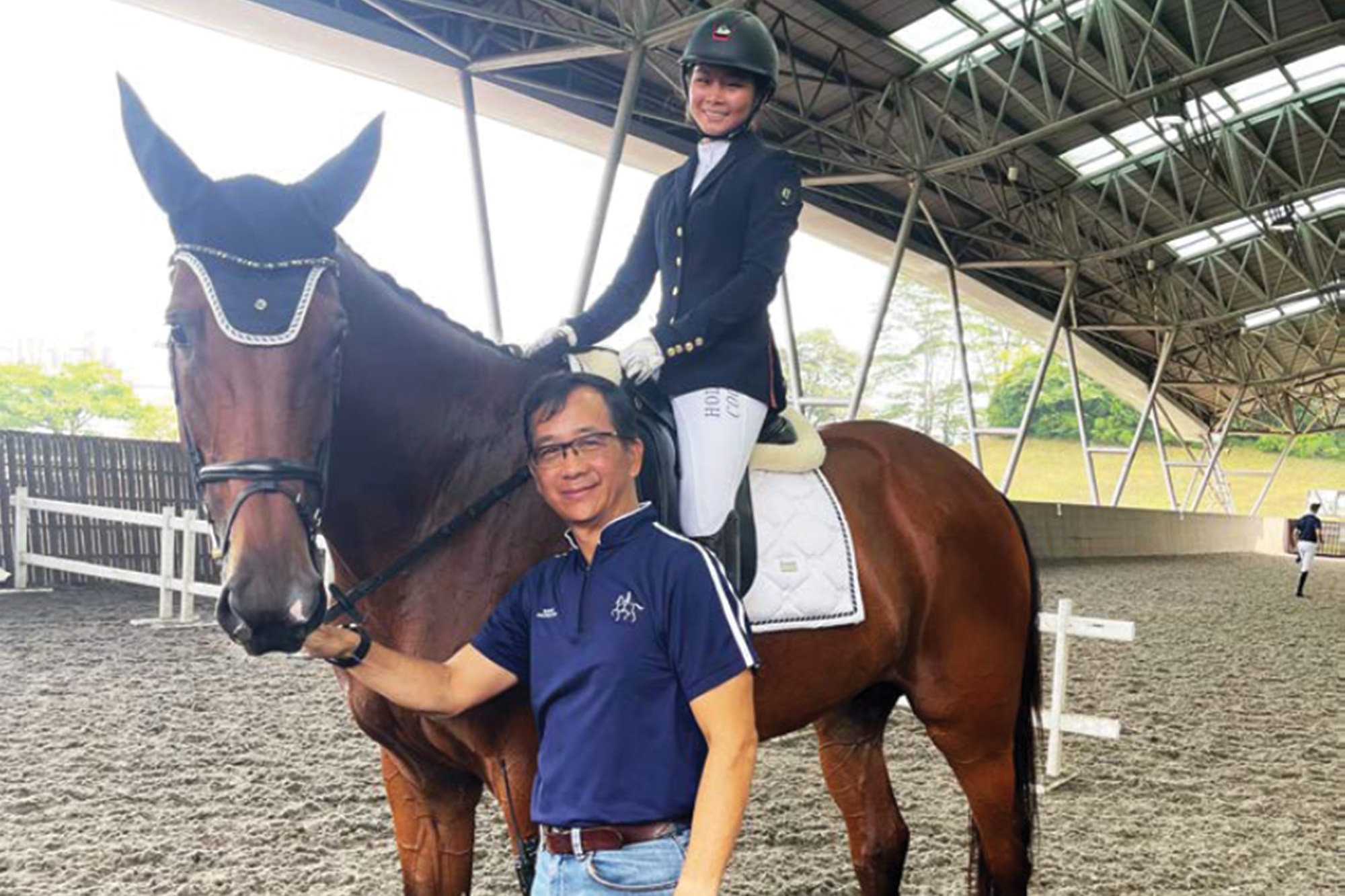 "Roy is like a caring father-figure to me; he always places my wellbeing before anything else. In addition to his attentiveness, he has a multitude of teaching methods that help drive and improve my performance," Rachael shared.
The trio's coaching styles clearly resonate well with students. Our student population has grown significantly in the last year and many of our new students came to us via student referrals.
What are some of the challenges students face and how do our coaches assuage these?
Our coaches apprised that riders face different challenges at different stages of their riding journey. For new riders, this could be about building the confidence to handle a horse or being comfortable in the saddle. For new and experienced riders alike, achieving consistency in form and posture is a possible challenge, as every interaction between rider and horse can affect performance. For students who progress to competitive riding in particular, pre-competition nerves can affect even the most experienced riders.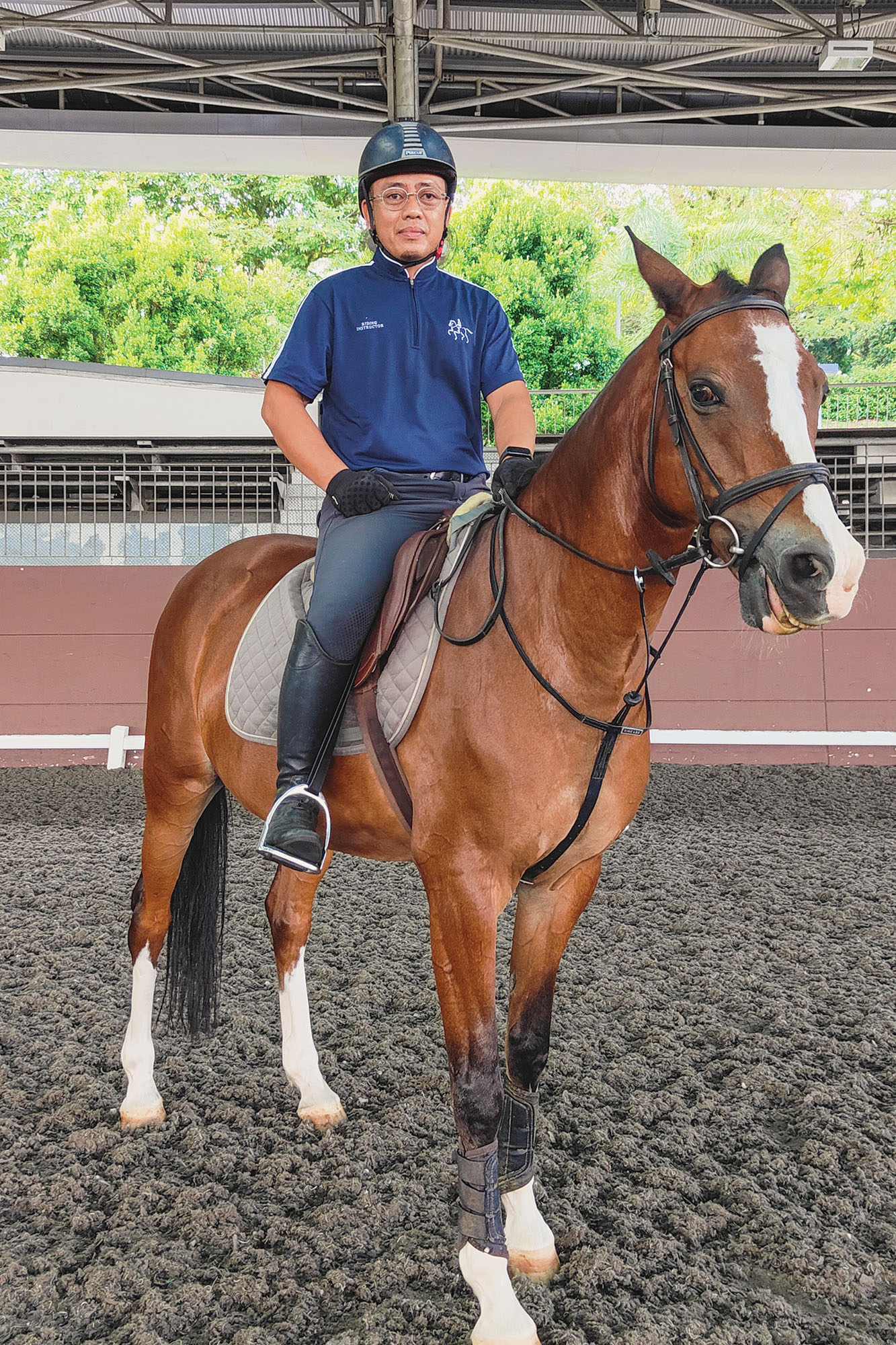 "The key is to know our students well and understand their hopes and concerns, especially in the lead up to competitions. Being patient, helping them build their confidence and being meticulous in guiding and assuring them every step of the way is critical. This will help them develop their skills confidently and in a safe manner," Adi shared.
Anyone who wishes to sharpen their equestrian skills can surely rely on Roy, Linges and Adi who are ever generous in imparting their skills and knowledge while taking special care to ensure their students blossom as equestrians with great love for the sport. We wish our trio of coaches a very happy teachers' day!
Interested to find out more about what STRCR has to offer? Check out our equine and riding experiences at Singapore Turf Club - Learn Horse Riding in Singapore.