The countdown starts; it's now mere hours away from the start of the first race. And one place in Singapore Turf Club (STC) is abuzz with crucial activity - the Weighing Room.
So, what exactly happens in the Weighing Room each weekend? Yes, weighing scales are used and weights (of jockeys) are taken. As simple and straightforward as it sounds, what goes on in the Weighing Room is very distinctive and mission critical to racing operations.
With three hours to the first race of the day, you'll find Pauline Ng, Head of Stables doubling up as a Clerk of Scales, overseeing the operations within the Weighing Room. Her team can be seen busy preparing barrier reports indicating the barrier positions of each horse in a race, scratching reports of horses striked off from races, and jockey declarations. It's a rigorous and tedious process, but this prep is done to ensure that jockeys weigh in and out accurately with the correct gears for races in their respective weight class, and most importantly, are within the acceptable weight range for their race.  
A veteran in the horseracing industry, Pauline first joined STC in 2000. In her role as Clerk of Scales, she oversees a team of six who possess unique qualities such as a good memory, exceptional mental calculation skills, and the ability to think on their feet and make informed decisions in quick time.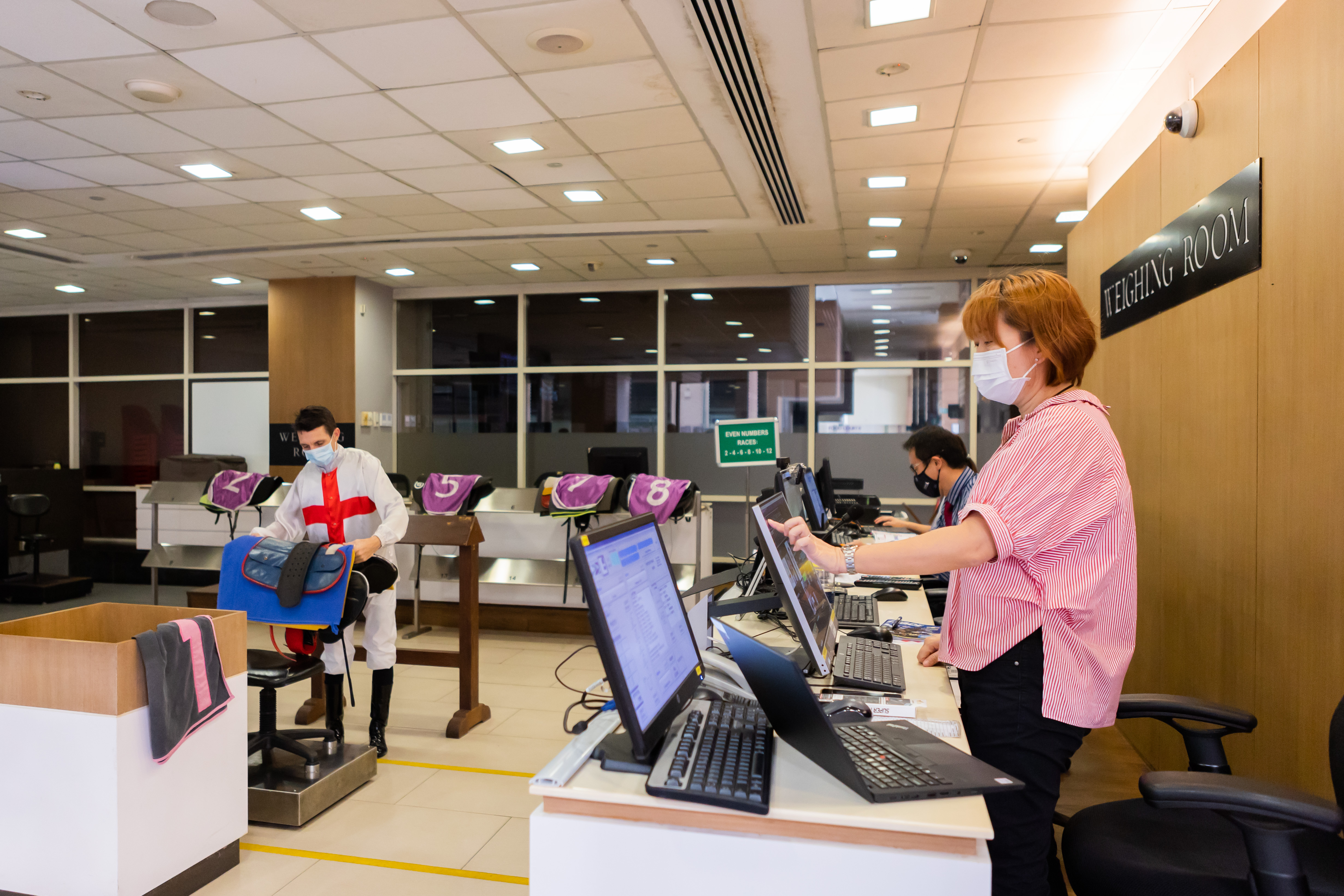 Meet Pauline Ng, Head of Stables, who doubles up as Clerk of Scales during the weekend races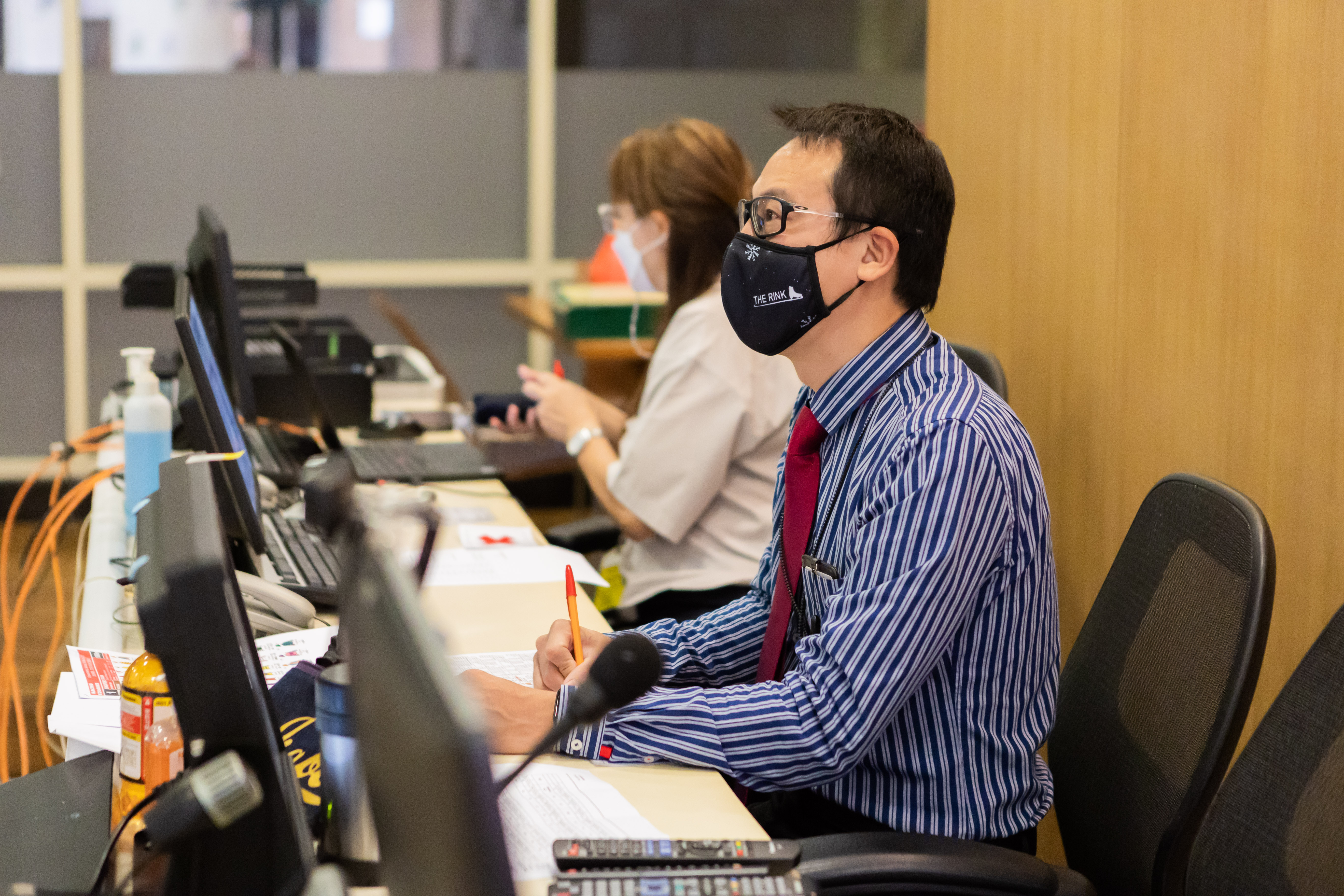 A rigorous process takes place at the Weighing Room so that races run according to schedule
"The Weighing Room acts like a core information hub on race day. All critical information including jockey changes or stand downs and horse withdrawals, flows through the room. It is our task to promptly and accurately disseminate information to the right departments, to ensure racing runs like a well-oiled clockwork," Pauline stated.
There is much interplay between the Weighing Room team and colleagues from broadcasting, racing operations, judges, stipendiary stewards, tracks and veterinary, even Singapore Pools. Just about anyone will stop by for information, hence the team needs to be on top of all going-ons and be able to answer any queries.
As the first race nears, jockeys can be seen lining up for their weigh outs. Each horse in a race has to carry a certain amount of weight and jockeys weigh out to ensure they and their gear are the right weight. After the race the jockey must weigh in with all his gear, to confirm that the horse carried the right weight.  
It is important for the team to flag any weight discrepancies to the stipendiary stewards as such errors impact fairness and affect the results of a race. This is also one of the reasons why the team must be observant and detail-oriented amidst working in a fast-paced environment.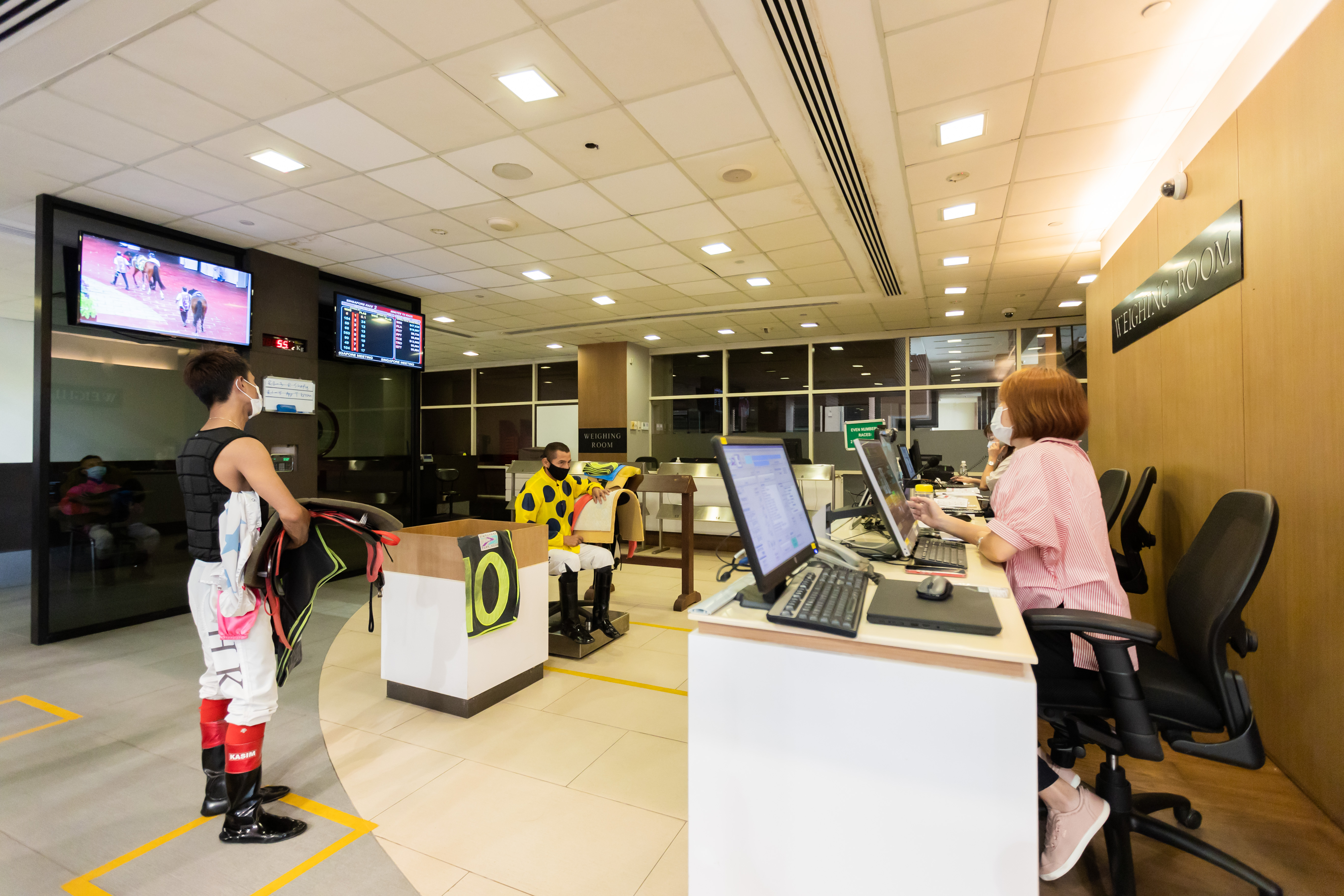 Jockeys lining up for their weigh outs prior to the race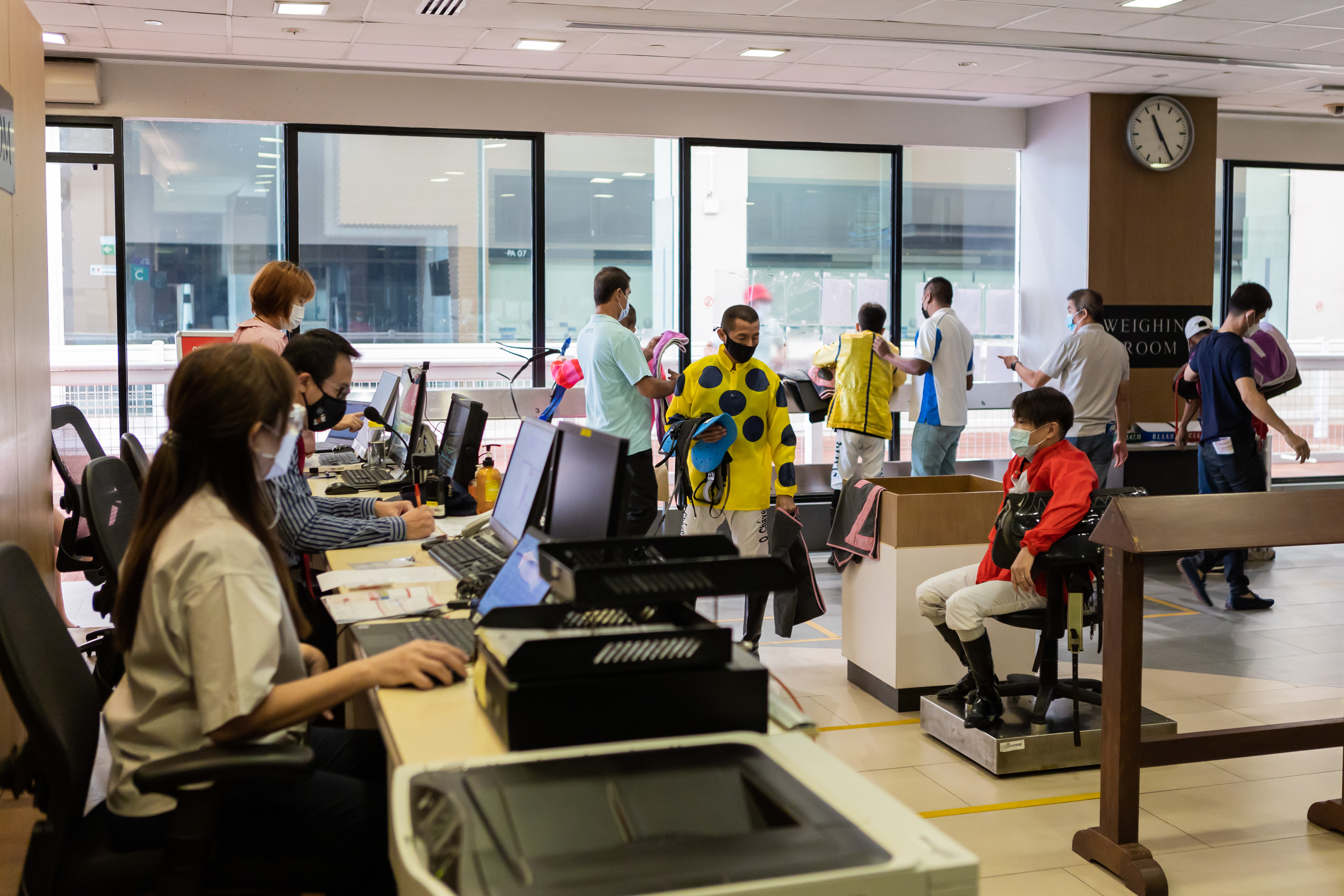 The Weighing Room where activity is abuzz on race days
"Our responsibility is to ensure that weigh outs and ins are done swiftly and accurately, and that we have all the information on hand when a sudden enquiry comes in. We do this so that all races can move forward without any delays," Pauline shared.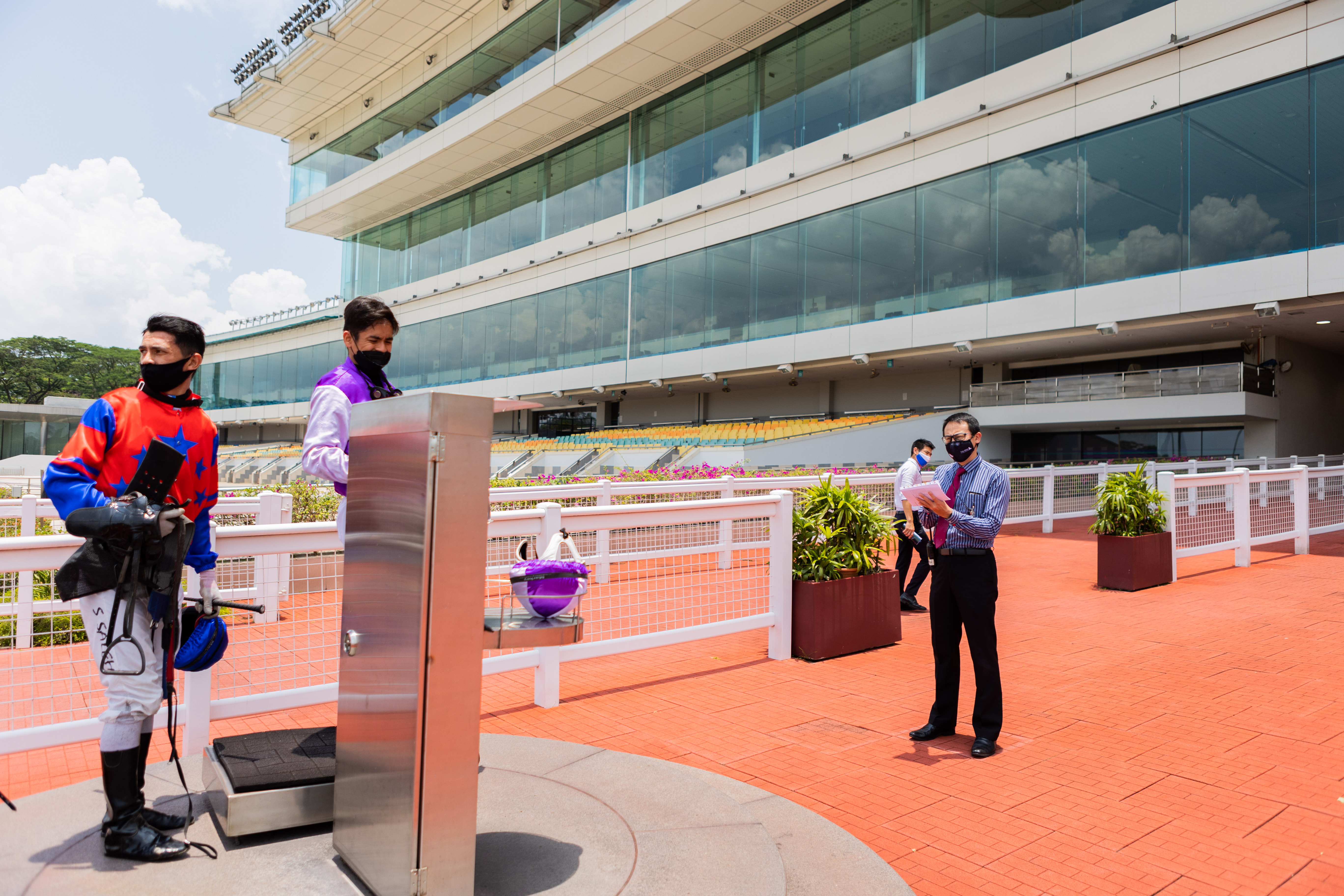 Weigh outs, while not at the Weighing Room, follow the same robust process to ensure smooth proceedings on race day
Looking ahead, Pauline notes that the motivating factors driving the team forward each day revolves around one important goal – to shift people's perception to see horse racing as a sport. She hopes to expose younger audiences to the sport, and work towards bringing the Club back to its glory days when visitors numbered in the tens of thousands.
"The dream of introducing this very special sport of kings to a wider audience pushes us to deliver only the best race experience for our guests and we will not stop till we get there!" Pauline exclaimed.
May 2022