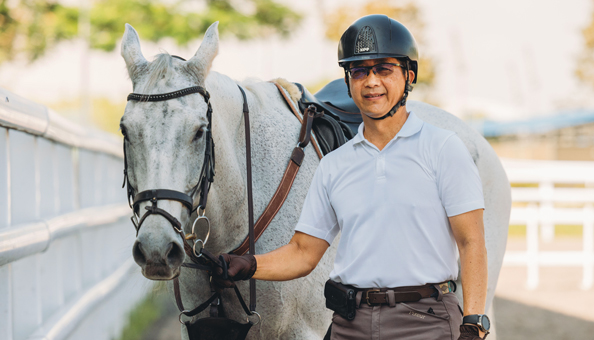 Lukas Karyanataufik Ibrahim (Roy Ibrahim) – Chief Riding Instructor
Chief Riding Instructor Roy Ibrahim is a Certified Fédération Équestre Internationale (FEI) Level 3 Coach with over 25 years of teaching experience all over the world. Roy's experience as a technical advisor for Coaching and Development in the Equestrian Federation of Singapore has helped many students advance to compete on both national and international levels, including prominent riders like Natalie Tan, Judith Lee, Audrey Njoto, and Alana Jamieson.
His broad expertise stems from his participation in the ASEAN Games and World Cup for Show Jumping as well as the SEA Games for Dressage and Eventing, and his biggest wish is for his students to compete on the same international stage.
Other achievement:
Technical Expert in FEI Retraining Techniques of retired racehorses
Technical Expert in Equestrian Sport Educative Event
Awarded scholarship from Association of Summer Olympic International Federations FEI Solidary for the Coach Educator programme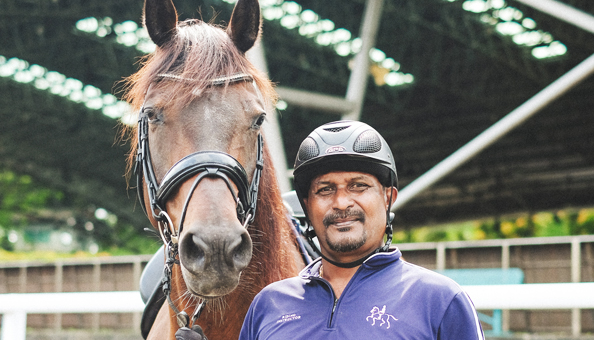 Lingesparan Suppiah – Riding Instructor
Riding Instructor Lingesparan Suppiah is an Equestrian Australia NCAS (National Coaching Accreditation Scheme) Level 1 certified instructor. Having learned the ropes from some of Australia's best instructors in Jumping and Dressage, Linges now employs the same teaching methods and philosophy to guide his students to achieve their goals and potential. His goal is to inspire his students to take their talent to the next level.
Other achievement:
Represented Malaysia in the SEA Games, where he won a silver medal in 2007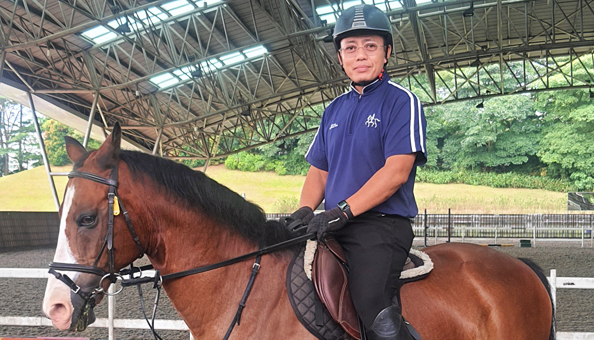 Adi Bin Sebli – Riding Instructor
Riding Instructor Adi Bin Sebli is an Equestrian Australia NCAS (National Coaching Accreditation Scheme) Level 1 certified coach with over 16 years of coaching experience in Dressage, Jumping and Endurance. Adi has a passion for learning and is a firm believer in the value of lifelong learning. He often leverages his overseas experiences to amass industry knowledge that he can then impart to his students.
Other achievement:
Received Herald of the Order of Loyalty to the Royal Family of Malaysia (B.S.D.) for training royal family of Sultan Zainal Abidin in Endurance
Grade 2 Group Instructor at Riding for the Disabled Association, Malaysia
Read more about our instructors here.