Singapore Turf Club Riding Centre (STCRC), Southeast Asia's premier equestrian facility and horse-riding academy, recently welcomed a new riding instructor who brings something special into the mix: equine-assisted therapy.
This Teacher's Day, we shine the spotlight on Senior Riding Instructor and Equine-Assisted Therapist Jessamine Ihrcke, who joined the STCRC team in July this year.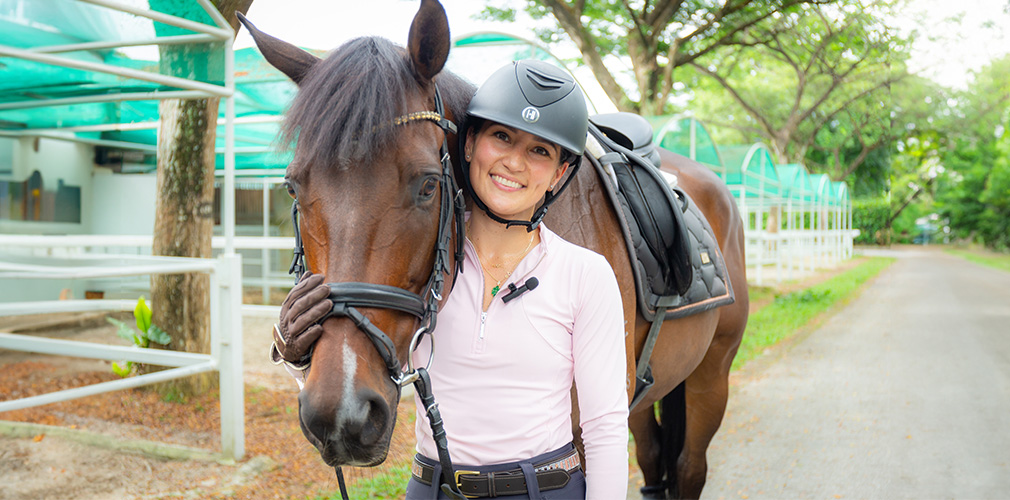 Jessamine with Showman, one of STCRC's newly minted equine teachers
Along with many years' horse-riding experience before going on to study psychology and counselling at the University of Surrey Roehampton, Jessamine has over 10 years' experience coaching students in leisure and competitive riding, as well as providing equine-assisted therapy to clients.
Before joining STCRC, she founded THERIS (Therapeutic Riding in Singapore), which operated on STCRC grounds. "I am deeply motivated by the therapeutic effects that engaging with horses has on my clients, so I decided to join STCRC full time in order to serve more students and clients," said Jessamine.
As Equine-Assisted Therapist, she conducts therapeutic riding sessions, which involves guiding positive behaviours through the relationship that clients have with horses. For physically challenged children and adults, Jessamine also provides physiotherapy on horseback.
Her rich experience in horse-riding means Jessamine is adept at teaching horse-riding to a broad spectrum of riders – from children to adults, novice to intermediate levels, and individual to group learners. They range from those who ride for leisure to others who ride for sport.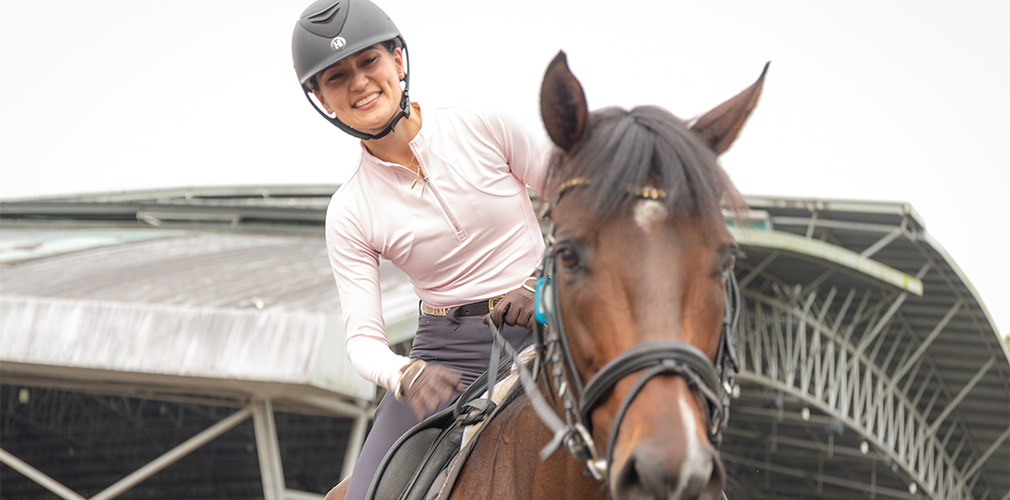 From a young age, Jessamine has been riding and competing in Dressage, Showjumping and Polo,
including the National Dressage Championships and National Jumping Championships.
When asked how she combines her equine-assisted therapy experience with her work as Senior Riding Instructor, Jessamine said: "When I'm wearing my Senior Riding Instructor helmet, I'm focused on helping my students improve their riding skills. My training in psychology and counselling enables me to better look out for the emotional wellbeing of my student riders, especially in helping them to manage the stresses of preparing for equestrian competitions.
In my experience, clients who join my equine-assisted therapy sessions are not looking to advance to the next riding level or to win the next competition. Very often, they have individual goals they hope to achieve, whether it's confidence building, developing physical skills or improving social skills."
Although the student/client profiles for the two are rather distinct, Jessamine highlighted a common thread between being an instructor and a therapist: "One size doesn't fit all. I always make the effort to understand my students' and clients' objectives. This allows me to tailor the session to their requirements, which I find is more meaningful and productive."
To encourage and inspire her differently abled clients and students, Jessamine always reminds them: "Focus on your abilities. We are all different and we all have different abilities. One of the best quotes that I've read is: if you ask a fish to climb a tree, it will always fail. If you're a fish, your ability is in the water, not on land. So, focus on your abilities."
Want to ride with Jessamine or interested in connecting with horses, learn more here.