Ready, get set…go! And the thunder of hooves pound on turf as 12 horses race towards the winning post!
With more than 10 races taking place each weekend at Singapore Turf Club (STC), it is no mean feat to ensure that all racehorses and jockeys have a fair and safe start to each race. Pivotal to making this happen consistently is our team of highly experienced race starters and barrier attendants.
Head Starter John Pepe ready to give the signal
Helming this important team at STC is John Pepe, Head Starter. He runs a tight ship, to ensure that the preparations and groundwork for starting every weekend's races are done at an impeccably high standard.
Race starters play a critical role in the horse racing industry. So much so that the race can't go on without them. While no paper qualifications are required for the role, it takes years of on-the-ground experience, horse sense and proper understanding of horses to excel in the role.
"Horses are sensitive creatures and can sense how people react to them. Race starters require a certain level of temperament to ensure that they keep calm and agile when under pressure," Pepe quipped.
So, how does Pepe and team ensure race integrity and a safe start for each race?
As part of pre-race preparations, starters make sure that all horses are properly educated so that they behave themselves around the barriers.
"At STC, horses are required to do a series of barrier trials for us to ascertain their readiness for the races. Horses that we deem ready – showing us that that they will behave the right way and not injure themselves or anyone around them – then get a certificate to participate on race days," he shared.
Ahead of each race, we start loading the horses into their respective barriers, with horses that take slightly longer to load, going first. What's most critical is that we load them as quickly and safely as possible, and that they are standing in their positions quietly before the gates open," continued Pepe.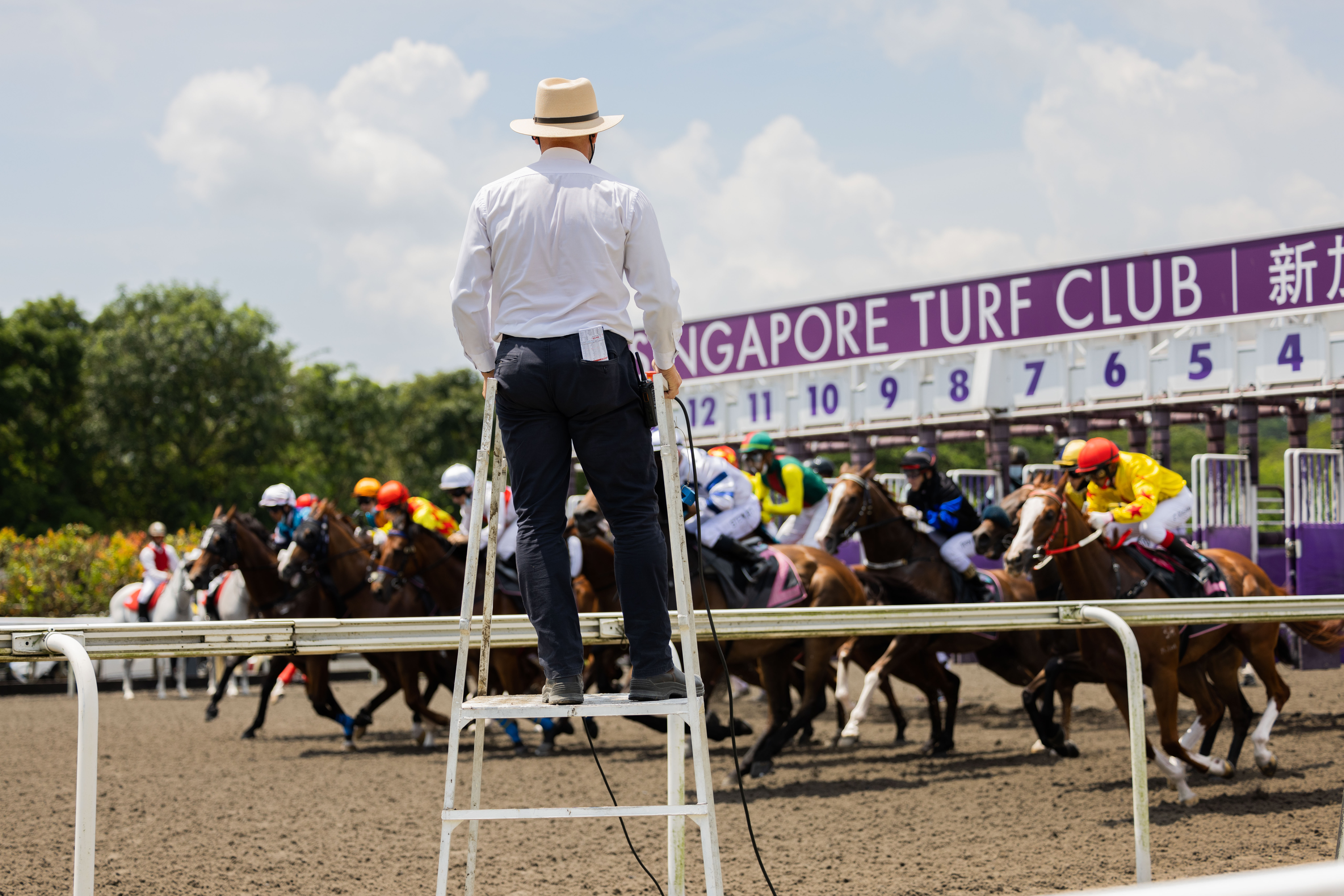 And off the horses go!
At the barriers, starters and barrier attendants have the second most dangerous job after jockeys in the industry.
"Horses are such powerful animals. We have to stay alert and in compliance with all rules and safety measures to ensure no one gets hurt. And that includes wearing personal protective equipment," shared Pepe.
When one race is flagged off, the team breathes a little easier, but they do not let down their guard until the last race is run for the day.
Crucial to the Club's approach to maintaining race integrity are fair starts.
Between each race, the team goes up to the stipendiary stewards' room to watch a replay of the race. They look out for reasons behind slow starts, which could include handlers holding onto their horses longer than they should or that one of the gates opened slower due to a mechanical issue. They also look for horses that misbehave at the start of a race and make recommendations to trainers on how to improve their horses' behaviour before sending them back to the races.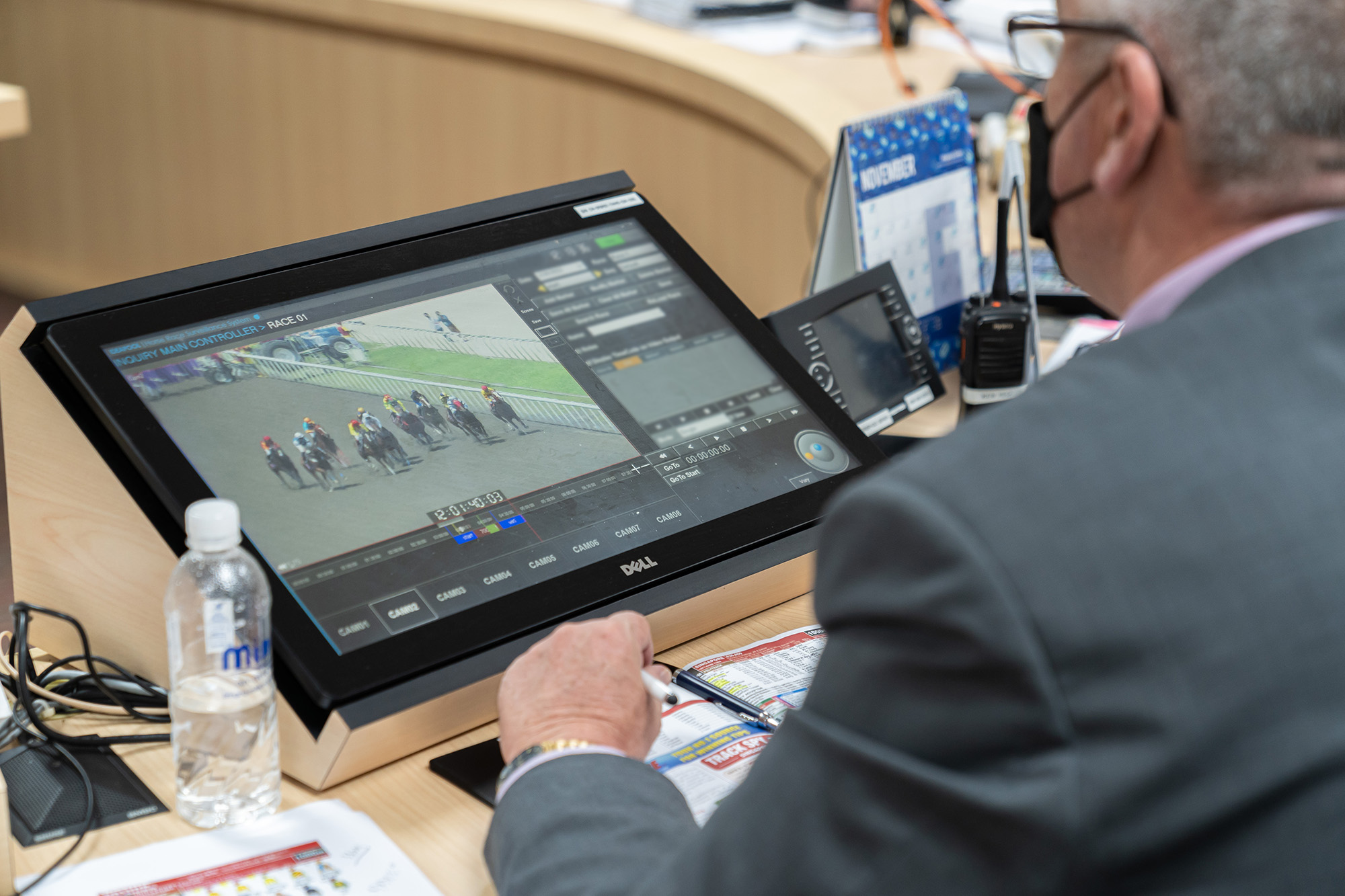 Keeping a close eye on race integrity – watching replays in the stipendiary stewards' room
"Issues that happen on race days typically involve younger and inexperienced horses who might just be at the start of their racing careers. It's important that we do as much work with them as possible by educating and training them towards the right behaviours. After several practice starts and proper schooling, the start of a race becomes second nature to them, reducing incidents that might happen at the barrier gates," said Pepe.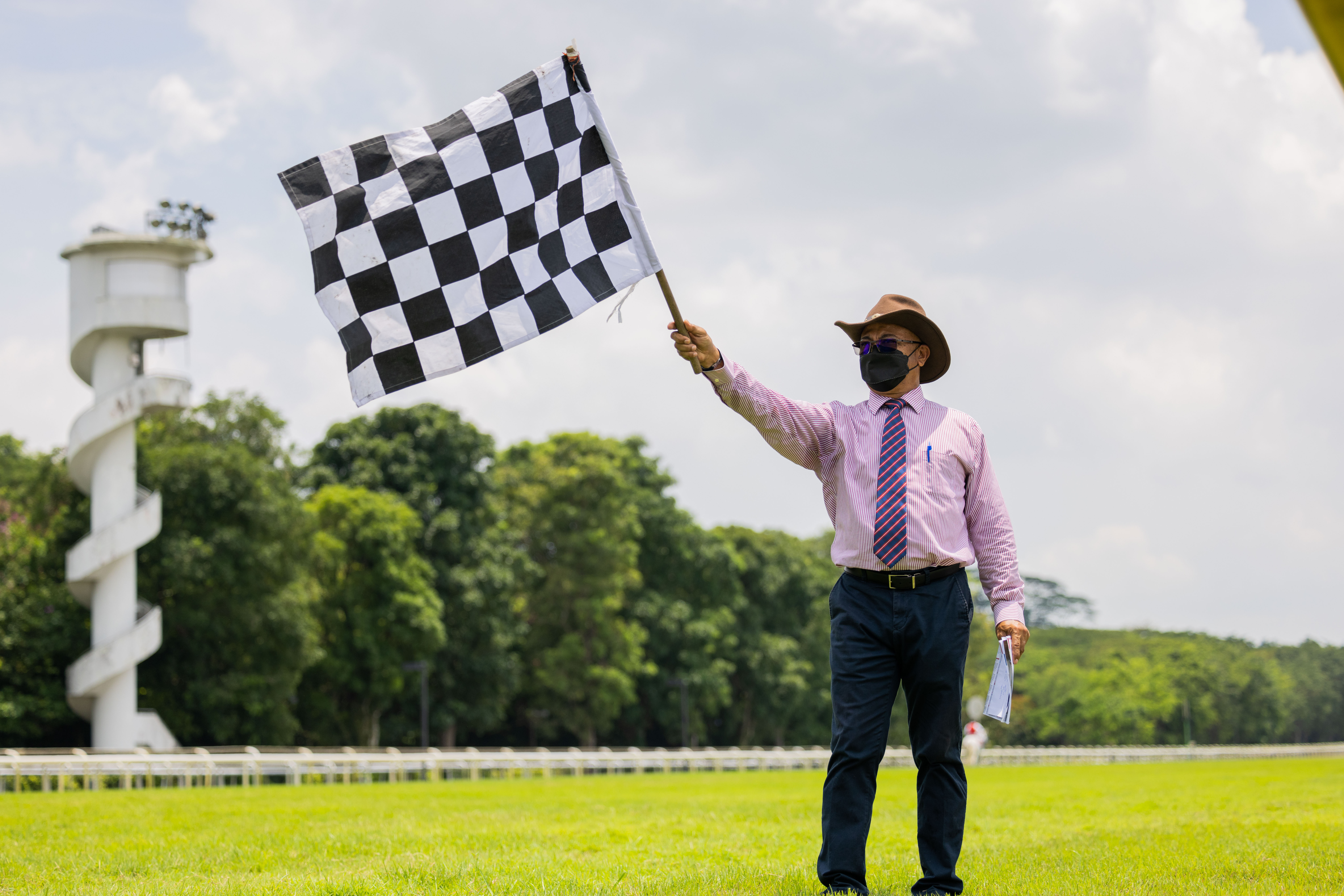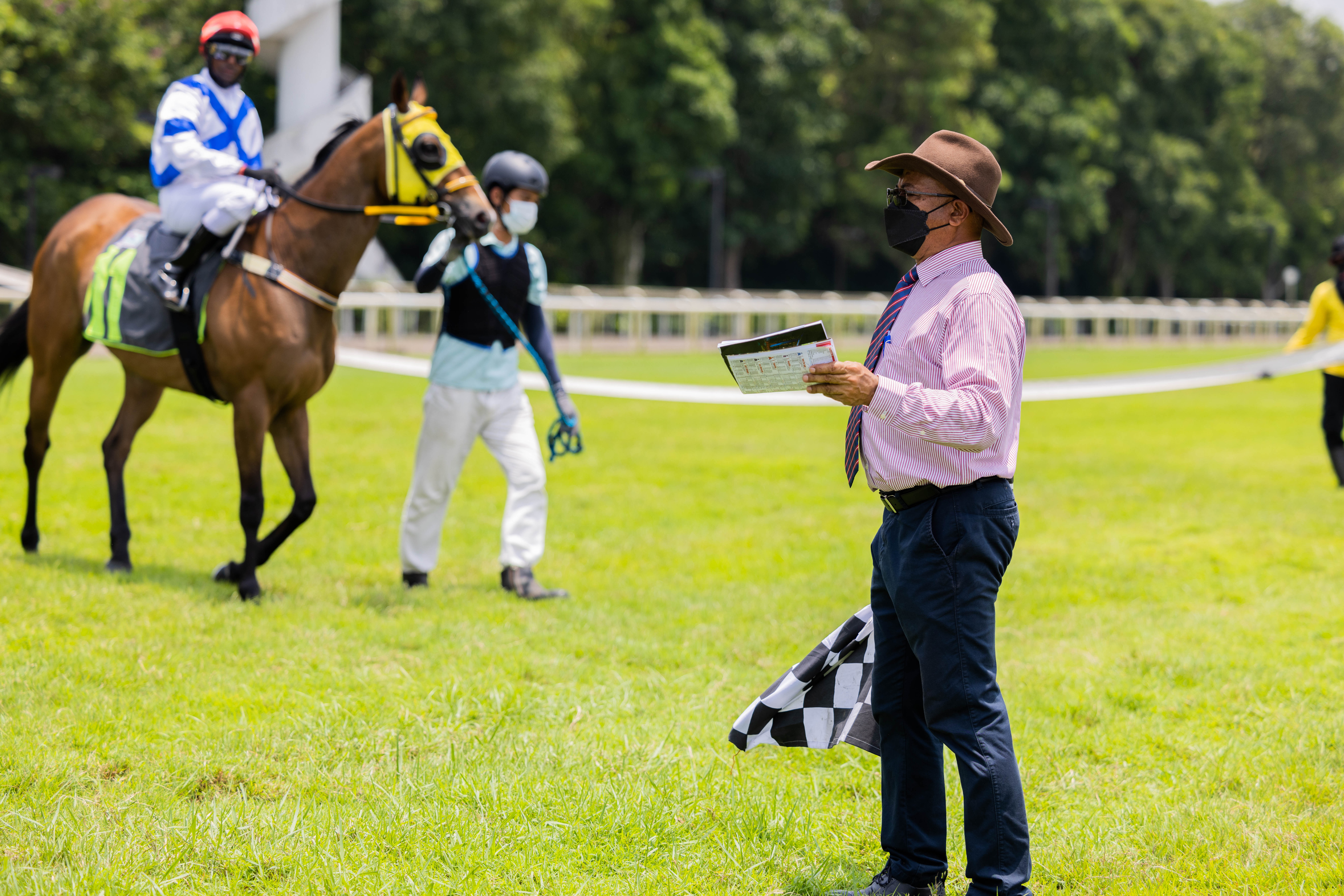 Fellow starter Ronnie Osman working the grounds on race day
At the close of race day, the whole team pats one another on the back for a job well done when everyone can return home safe and sound.
Pepe has seen it all in the 20 years he's been in the horse racing industry. From Australia and the United Kingdom (UK), to America, Hong Kong and now Singapore, Pepe shared that the part he loves most about working in Singapore's horse racing industry is the level of involvement and collaboration that starters have in training horses for race starts.
"What's different here in Singapore is that starters get to help re-educate some of the difficult horses. In places like Australia and the UK, trainers send young or difficult horses to specialised horse breakers for a couple of months to train them on their properties. In Singapore, starters take on the additional role of horse breakers to help trainers with younger and difficult horses for three to four sessions – and it works," said Pepe.
"The teamwork between trainers and starters eventually benefits everyone on race day – horses behave better, safety is improved and we get a lot of satisfaction seeing this," he added.
May 2022