Singapore Turf Club Riding Centre's Alice Shi clinched second place at the international junior show jumping competition held during Princess's Cup 2022 in Thailand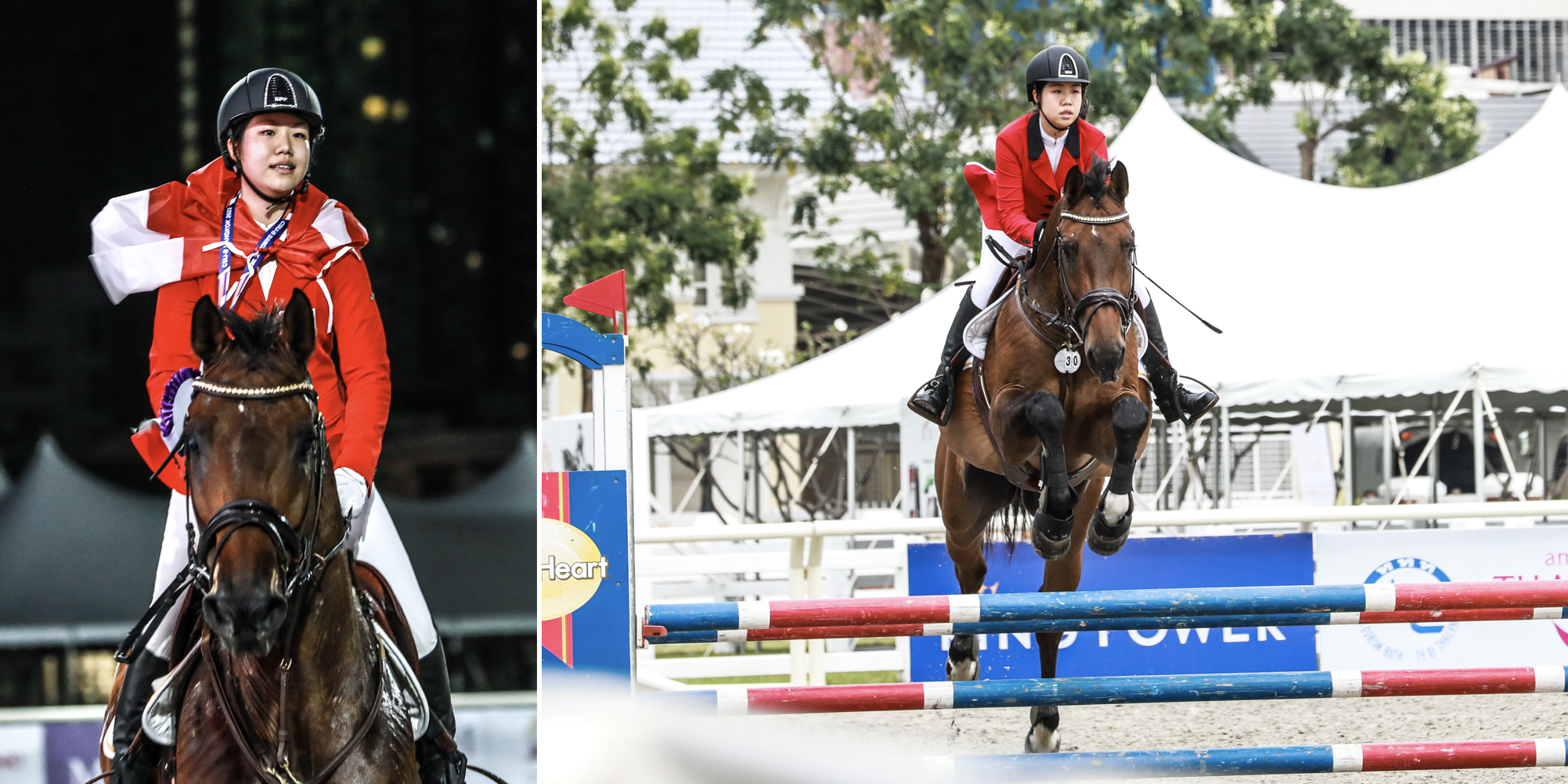 Alice Shi from Singapore Turf Club Riding Centre clinched second place in the individual category of the
CSIJ-B junior show jumping competition at Princess's Cup 2022.
Photo credits: Nikkasit Jomo
Singapore Turf Club Riding Centre (STCRC) today announced that Alice Shi, one of the Centre's young equestrian athletes, has emerged second in the individual category of the international junior show jumping competition held during the Princess's Cup 2022 in Bangkok, Thailand on Monday, 21 November 2022. She is one of the three young riders from STCRC who were selected by the Equestrian Federation of Singapore (EFS) to represent Singapore at the competition, alongside Tara Nur Ibrahim and Rachael Leong.
Alice clinched second place on her borrowed horse, CARACCI M, behind Waruesa Pavasantanon from Thailand, with Hung-Shen Chen, from Chinese Taipei rounding up the top three. Meanwhile, Singapore's second representative in the individual category, Tara, was placed 12th out of the 20 participants.  
Organised by the Thailand Equestrian Federation (TEF) and the Southeast Asian Equestrian Federation (SEAEF), 30 young riders aged between 14 and 18 years old from all over the region were invited to participate in the prestigious annual international show jumping (CSIJ-B) competition, which ran from 18 to 21 November this year. While riders from different riding clubs have been nominated to represent Singapore, this year's event marked the first time where EFS has selected all three riders from STCRC.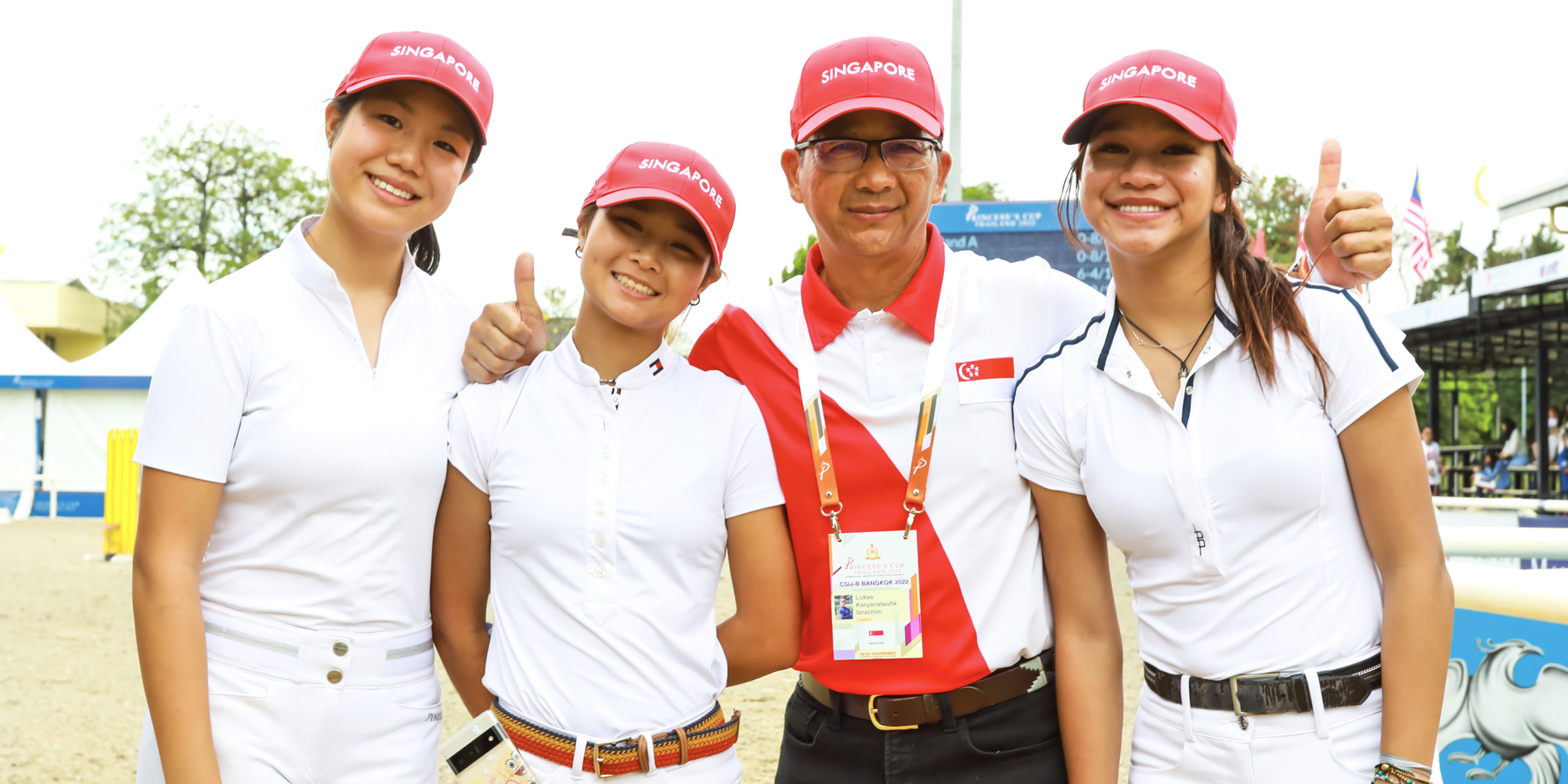 From left: Alice Shi, Rachael Leong, Roy Ibrahim and Tara Nur Ibrahim from
Singapore Turf Club Riding Centre representing Singapore at CSIJ-B in Bangkok
Photo credits: Nikkasit Jomo
Led by Roy Ibrahim, Chief Riding Instructor at STCRC, the trio also competed in the team category on Sunday, 20 November 2022.
"I am extremely proud of our young riders and very pleased with their performance at Princess's Cup 2022. This was an invaluable experience for them and our three riders have definitely proven that they have what it takes to pitch themselves against talented riders from the region. With the podium placing this year being the first for Team Singapore since 2017, it is indeed a moment to celebrate for Singapore and STCRC," shared Roy Ibrahim, Chief Riding Instructor, STCRC.
"It was wonderful to compete at the Princess's Cup 2022 and I am endlessly grateful for this opportunity! Borrowed horse events put so many factors up to chance and it is definitely not easy for everyone, so I am really glad that we managed to overcome the obstacles. I got second place in the end, but the medal belongs to the whole team, because nothing would've been possible without their support. I would like to thank EFS for such a priceless opportunity, my coach Roy for his constant guidance, my wonderful team, STCRC, and of course the organisers of the Princess's Cup for having us. This experience will hold such a special place in my heart, being not only my Princess's Cup debut but also the first time that all representatives are from STCRC — where I started on my riding journey. I hope that we have done both STCRC and Singapore proud!" said Alice Shi, Equestrian Athlete, STCRC.
Tara Nur Ibrahim added, "I really appreciate the opportunity to represent Singapore and STCRC to compete for the first time at Princess's Cup 2022. Despite the tough competition, the team supported each other throughout the event, and I am really proud of what we have achieved. The event has allowed me to meet and learn from many other talented and amazing riders and I hope to continue to improve and to return next year."
"This will be my first and last time competing as a junior rider at the CSIJ-B event at Princess's Cup and I am incredibly honoured for the chance to represent Singapore and STCRC. I hope that more equestrian talents from Singapore will be able to compete in international competitions such as the Princess's Cup, to allow us to showcase our abilities and put Singapore on the map of the global equestrian scene," concluded Rachael Leong.
About Singapore Turf Club Riding Centre
The Singapore Turf Club Riding Centre (STCRC) is an exciting community project by Singapore Turf Club (STC) and Tote Board. It aims to foster a horse-riding community in Singapore, and to introduce and educate the public about horses and horse care.

As Southeast Asia's premier equestrian facility set on three hectares of lush greenery right next to STC at Kranji, STCRC features the most advanced riding and livery facilities in Singapore and provides a range of programmes to introduce the fun of horse riding to everyone.
About the Singapore Turf Club
Founded in 1842, Singapore Turf Club (STC) is Singapore's only horse racing club. A destination that has consistently been reinventing experiences and bringing fun and excitement to the communities, STC's sprawling 124-hectare Kranji grounds can support both large-scale and intimate sporting competitions and lifestyle events. Featuring world-class horse racing tracks and a 30,000-seater Grandstand, STC is also home to the Singapore Turf Club Riding Centre, which houses an Olympic class equestrian arena purpose-built fo r the 2010 Youth Olympic Games in Singapore.
A proprietary club of the Tote Board, STC's focus is on cultivating horse-racing as a prestige sport and creating a first-class horse-racing community in Singapore with integrity and professionalism. STC is also a learning hub for specialised equestrian skills, as well as a provider of impeccable stabling, horse training and horse event support. For more information about STC, please visit www.turfclub.com.sg.