8 February 2022

Singapore Racing Awards winners for 2020 and 2021
The Singapore Turf Club is releasing the names of the various award winners of the 2021 Singapore racing season, and, exceptionally, those of the preceding 2020 season as well, following the cancellation of the Singapore Racing Awards event due to the outbreak of COVID-19 since early 2020.
In the fallout of the pandemic within the horse racing industry, the Singapore Turf Club had to streamline its operations and quickly implemented various safety management measures to protect the well-being of its stakeholders in line with directives from the government agencies. Priority was given to the continuation of its core business of running horse racing behind closed doors.
As a result, the traditional Singapore Racing Awards event had to be deferred.
The Singapore Turf Club, however, acknowledges the importance of giving recognition to industry participants for their achievements. It has therefore decided to give due kudos to the Singapore Racing Awards winners for the 2020 and 2021 seasons, while ensuring that its stakeholders and racing operations are not subject to any health risk.
Here is a quick rundown of the two lots of recipients of 2020 and 2021.
Season 2020
It may have been only two years ago, but it does feel like it has been a while back since Inferno ruled the roost at Kranji, leading to his crowning as the undisputed Singapore Horse of the Year in 2020.
The son of Holy Roman Emperor now plies his trade in Australia as The Inferno, under the polish of trainer Cliff Brown (who returned to Australia in 2021).
Memories of his electric turn of foot, however, still live on at Kranji, especially at his three feature wins, two coming at Group 1 level in the Singapore Guineas (1600m) and the Lion City Cup (1200m).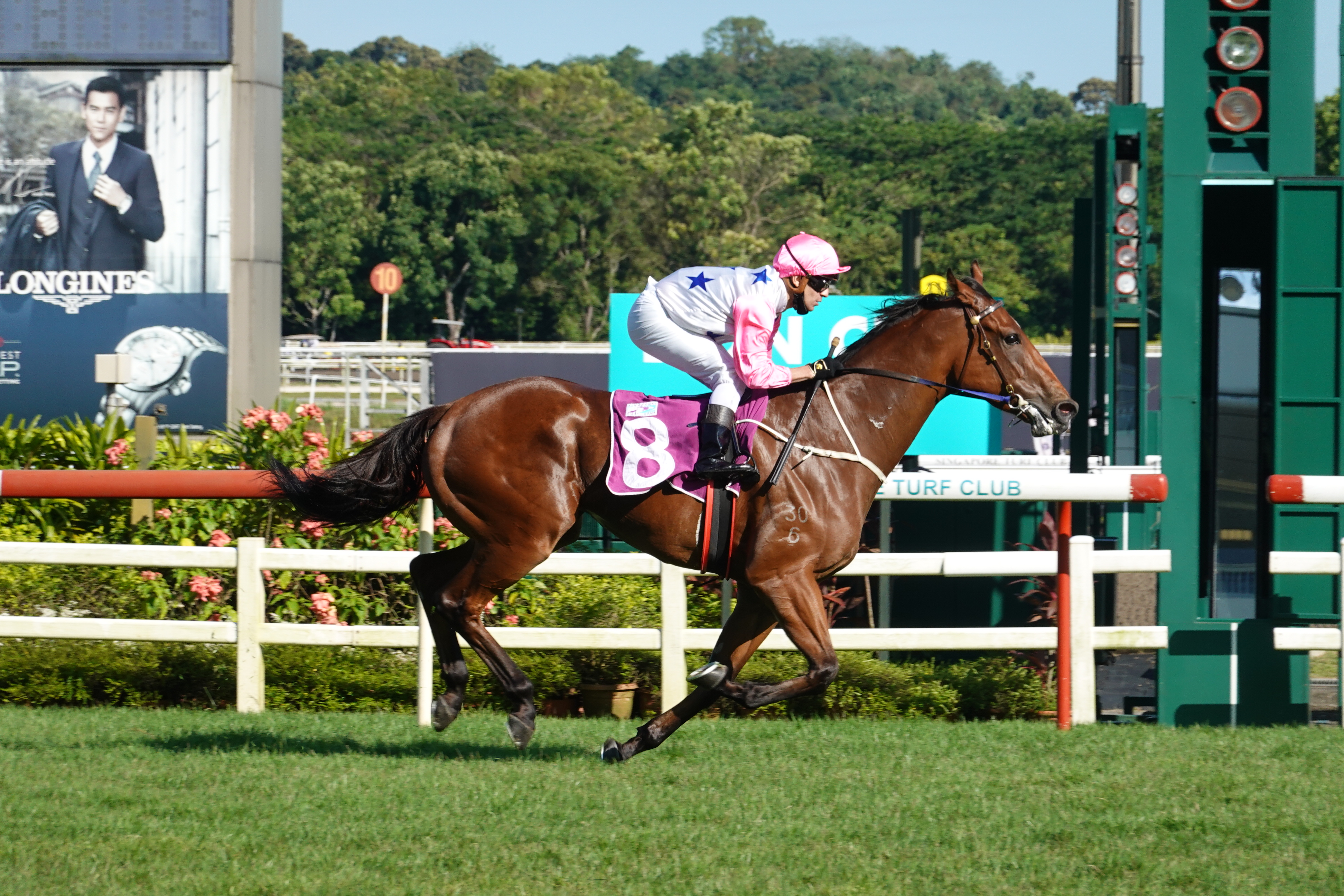 The mighty Inferno ruled the roost at Kranji in 2020.
Due to the raft of calendar changes brought about by COVID-19, Inferno oddly claimed the only two Legs of a truncated Singapore Three-Year-Old Challenge – Group 2 Singapore Classic (1400m) and Singapore Guineas – as a four-year-old in the wake of the rescheduling of such age feature races after the cut-off date of August 1, the universal birthday for Southern Hemisphere-bred horses.
Inferno, the Champion Juvenile in 2019, also took the Champion Sprinter awards while his Barree stablemate Boomba got the nod in the Two-Year-Old category.
Likewise, the Michael Clements-trained Top Knight took the honours in the Four-Year-Old category with the clincher coming as a five-year-old in a Group 1 Singapore Derby (1800m) unusually staged in September. The Group 1 Queen Elizabeth II Cup (1800m) victory ultimately made his Champion Stayer award a shoo-in.
It was a closer contest in the Champion Miler and Champion Polytrack contests, but the Shane Baertschiger-trained Aramaayo (who also races in Australia now) emerged as a deserved winner of the former courtesy of his Group 1 Kranji Mile (1600m) and Group 1 Raffles Cup (1600m) wins while Excelling's excellent win in the Group 2 Merlion Trophy (1200m) swung it for the Lee Freedman-trained sprinter.
In the human category, Michael Clements won his first Champion Trainer title since moving from his native Zimbabwe to Singapore in 1998. Australian rider Vlad Duric was crowned Champion Jockey for the fourth consecutive time, and Malaysian rider Simon Kok Wei Hoong grabbed the honours as Champion Apprentice Jockey for the second year running as well as that of Champion Local Jockey.
After a first hurrah in 2019, Thai outfit Falcon Racing Stable defended its title successfully by again sweeping the Leading Owner awards in both number of winners and prizemoney categories.
| | | | |
| --- | --- | --- | --- |
| -          Champion Two-Year-Old |   |   | BOOMBA |
| -          Champion Three-Year-Old  |   |   | INFERNO |
| -          Champion Four-Year-Old |   |   | TOP KNIGHT |
| -          Champion Sprinter  |   |   | INFERNO |
| -          Champion Miler  |   |   | ARAMAAYO |
| -          Champion Stayer  |   |   | TOP KNIGHT |
| -          Champion Polytrack Horse  |   |   | EXCELLING |
| -          Leading Owner |   |   | FALCON RACING STABLE |
|   |   |   | (by Prizemoney and Wins) |
| -          Champion Trainer |   |   | MICHAEL CLEMENTS |
| -          Champion Jockey |   |   | VLAD DURIC |
| -          Champion Local Jockey |   |   | SIMON KOK WEI HOONG |
| -          Champion Apprentice Jockey |   |   | SIMON KOK WEI HOONG |
| -          Singapore Horse of the Year  |   |   | INFERNO |
Season 2021
The award winners for 2021 have just been decided, and the overwhelming victor has to be – without much surprise - Daniel Meagher's rejuvenated galloper Lim's Lightning, who hogged four of the seven equine titles on offer, including the coveted Singapore Horse of the Year award, two years after another Lope De Vega won it – I'm Incredible.
But perhaps more tellingly, the former 2018 Champion Two-Year-Old (interestingly, one year before Inferno) bagged the Champion Sprinter, Champion Miler and Champion Stayer gongs, an unprecedented feat in the annals of Singapore racing, which could not have come as a more fitting tribute to the amazing all-rounder that he is.
After meeting with moderate success at a brief stint in Australia in 2020, Lim's Lightning repaid connections' bold move to ship him back to Singapore with six wins from seven starts (only defeat was a mighty second to Minister in the Kranji Mile), including three at Group 1 level, Lion City Cup (1200m), Raffles Cup (1600m) and Singapore Gold Cup (2000m).
Back from a lacklustre Australian stint, Lim's Lightning bounced back with a dominant display in 2021.
Only one horse could have rained on his parade in certain awards, but Stephen Gray's Singapore Derby (1800m) winner Hard Too Think eventually got his name etched on the honour roll only in the Champion Four-Year-Old category, while Group 3 Singapore Three-Year-Old Sprint (1200m) winner Tiger Roar and Group 3 Merlion Trophy (1200m) winner Celavi handed trainer Michael Clements the Champion Three-Year-Old and Polytrack Champion distinctions respectively.
Clements returned the champion trainer mantle to Mark Walker for his fourth title while Walker's boom Malaysian apprentice jockey Hakim Kamaruddin joined Benny Woodworth (1995) as the only two apprentices to have claimed both the senior and junior titles in the jockeys' premierships. By default, the Kelantan-born rider also lands the Champion Local Jockey title.
Unlike the last two seasons when the Falcon Racing Stable claimed the Leading Owner title both in terms of prizemoney and winners, the awards are split between the Lim's Stable (prizemoney) and the Remarkable Stable (number of winners) in 2021.
-          Champion Three-Year-Old 
 
 
TIGER ROAR
-          Champion Four-Year-Old
 
 
HARD TOO THINK
-          Champion Sprinter 
 
 
LIM'S LIGHTNING
-          Champion Miler 
 
 
LIM'S LIGHTNING
-          Champion Stayer 
 
 
LIM'S LIGHTNING
-          Champion Polytrack Horse 
 
 
CELAVI
-          Leading Owner
 
 
LIM'S STABLE (by Prizemoney)
 
 
 
REMARKABLE STABLE (by Wins)
-          Champion Trainer
 
 
MARK WALKER
-          Champion Jockey
 
 
HAKIM KAMARUDDIN
-          Champion Local Jockey
 
 
HAKIM KAMARUDDIN
-          Champion Apprentice Jockey
 
 
HAKIM KAMARUDDIN

-          Singapore Horse of the Year

 

 
 

LIM'S LIGHTNING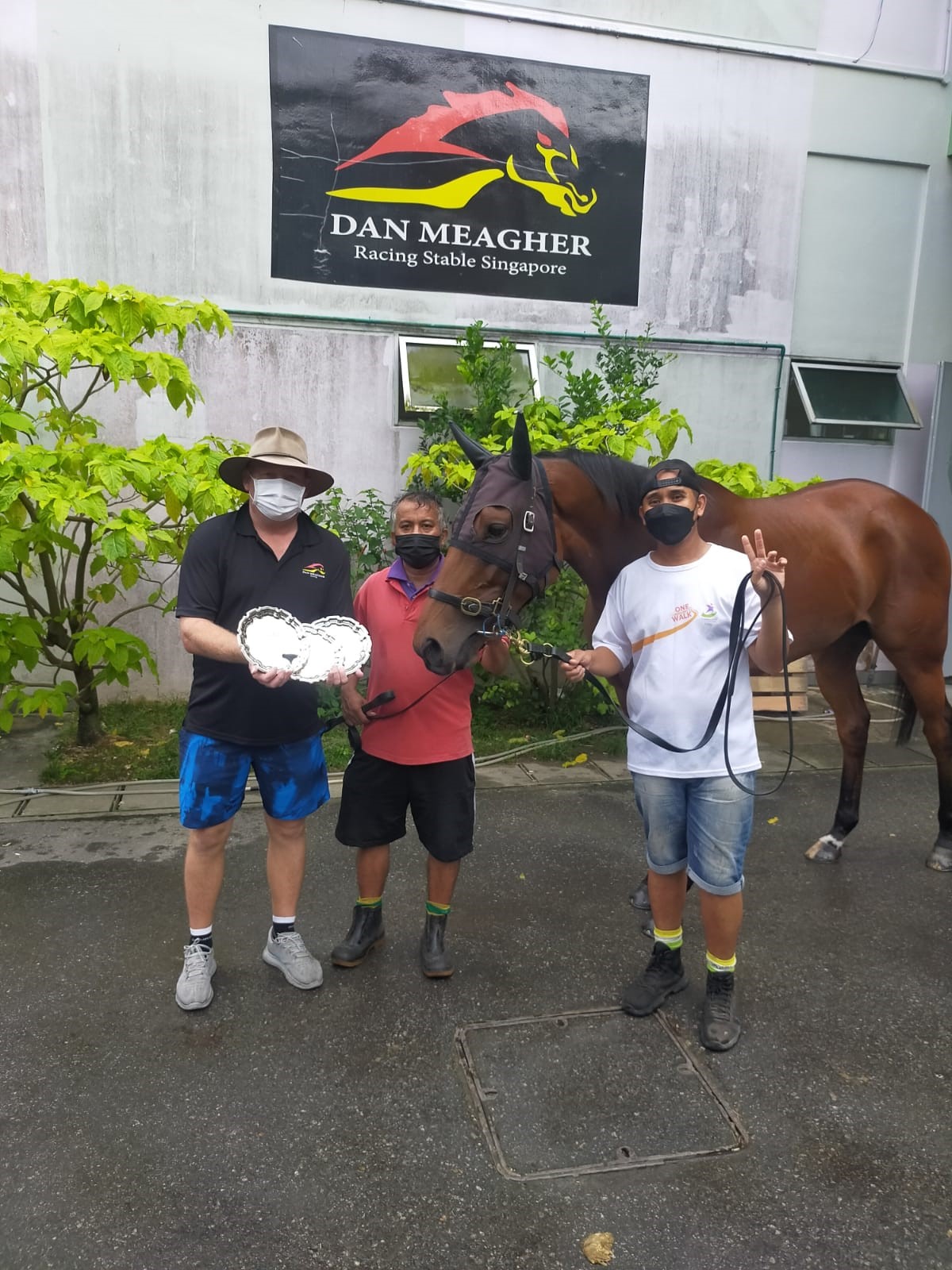 Trainer Daniel Meagher proudly holds the three Group 1 trophies, namely the Lion City Cup, Raffles Cup and Singapore Gold Cup which Lim's Lightning won last year.
About the Singapore Turf Club
Founded in 1842, Singapore Turf Club (STC) is Singapore's only horse racing club. A destination that has consistently been reinventing experiences and bringing fun and excitement to the communities, STC's sprawling 124-hectare Kranji grounds can support both large-scale and intimate sporting competitions and lifestyle events. Featuring world-class horse racing tracks and a 30,000-seater Grandstand, STC is also home to the Singapore Turf Club Riding Centre, which houses an Olympic class equestrian arena purpose-built for the 2010 Youth Olympic Games in Singapore.
A proprietary club of the Tote Board, STC's focus is on cultivating horse-racing as a prestige sport and creating a first-class horse-racing community in Singapore with integrity and professionalism. STC is also a learning hub for specialised equestrian skills, as well as a provider of impeccable stabling, horse training and horse event support.
For more information about STC, please visit www.turfclub.com.sg.