21 April 2022
Over 600 Club Rainbow beneficiaries enjoyed fun-filled equine experiences at Singapore Turf Club Riding Centre thanks to generosity of Singaporeans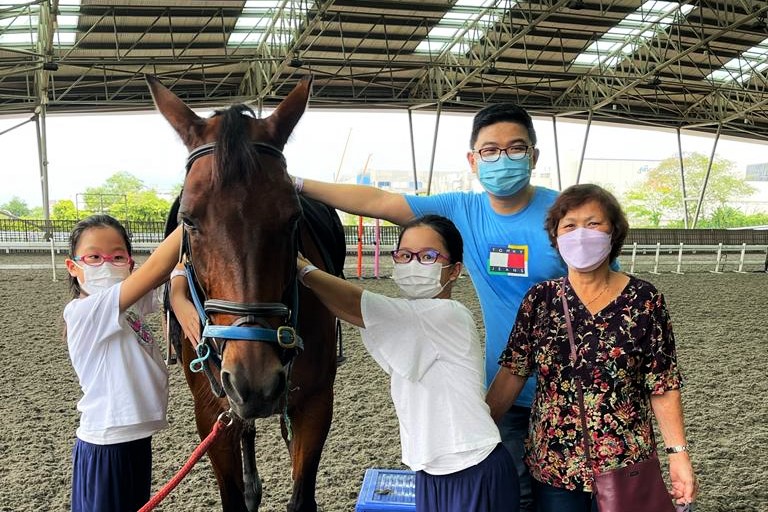 To spread cheer to over 600 Club Rainbow beneficiaries and their families, Singapore Turf Club Riding Centre (STCRC), Club Rainbow and Corporate Alliance for Good Ltd (CAforGood), teamed up to organise a series of family days that immersed the children and their family members in fun-filled equine experiences at STCRC all through the month of March. Over 30 equine-centric tours and horse-riding sessions were held at STCRC as part of the collaboration. This was funded by CAforGood's 'DO GOOD TOGETHER' initiative, which gathered public donations of unused SingaporeRediscovers Vouchers (SRVs) and channelled them to the underserved in our community.
The family days provided Club Rainbow beneficiaries and their family members the unique opportunity to take a behind-the-scenes tour of STCRC, Asia's premier equestrian facility, and interact with the magnificent horses at the Riding Centre. Beyond guided tours around STCRC's stables, beneficiaries and their family members also had the opportunity to feed, groom and ride majestic horses.
"The equine tour was definitely a great March holiday gift for our family, and we are grateful to STCRC and Club Rainbow for this special arrangement. The kids really enjoyed themselves as they learnt how to groom horses, and even rode under the guidance of the instructors at STCRC. What was especially heart-warming was how STCRC staff and volunteers were so patient and helpful when it came to handling and answering questions from our kids. Getting to meet and interact with a horse and learning to be confident around one, is a first for my kids. This was truly a memorable experience for us," said Tiffany, mother of a Club Rainbow beneficiary.
"STCRC is a key destination for immersive equine and equestrian activities. We aim to provide an end-to-end equine/equestrian experience for leisure seekers and equestrian enthusiasts, from trial rides and riding lessons to refreshed stable tours and livery services as well as national level equestrian competitions. We are delighted to be able to extend our unique experiences for a good cause, supporting underserved children through close partnerships with not-for-profit organisations like Club Rainbow and CAForGood. We continually renew our programmes so as to be able to offer even more meaningful and engaging experiences at our Olympic-class arena and lush surrounds," said Jennifer Chin, Assistant Vice President, Business Operations, Singapore Turf Club.
"CAForGood was set up during the height of the pandemic with the mission of addressing social issues affecting children and families in need. Our goal is to rally businesses and corporations to help and serve Singapore's underserved communities through synergistic and sustainable partnerships. We are fortunate and thankful to have found like-minded partners in STCRC and Club Rainbow who worked hand in hand to fulfil our mission of extending fond and memorable experiences to the underprivileged. Special thanks to Singaporeans who generously donated their SRVs and making this March school holiday a very special one for Club Rainbow beneficiaries and their family members," said Wilson Tan, Chief Executive Officer of CAForGood.
"Club Rainbow supports and empowers children with chronic illnesses and their families in their journey towards an enriching life. With the support of the team at STCRC, we were able to provide over 600 beneficiaries with an enriching equine experience which they may not otherwise have had the opportunity to participate in. We are extremely thankful to everyone who helped bring this programme to fruition for our beneficiaries. Club Rainbow will continue to foster meaningful partnerships with the community to support and make a difference to the lives of our beneficiaries," said Mr Teo Siang Loong, Executive Director of Club Rainbow (Singapore).
About Singapore Turf Club Riding Centre
The Singapore Turf Club Riding Centre (STCRC) is an exciting community project by Singapore Turf Club (STC) and Tote Board. It aims to foster a horse-riding community in Singapore, and to introduce and educate the public about horses and horse care.

As Southeast Asia's premier equestrian facility set on three hectares of lush greenery right next to STC at Kranji, STCRC features the most advanced riding and livery facilities in Singapore and provides a range of programmes to introduce the fun of horse riding to everyone.
About the Singapore Turf Club
Founded in 1842, Singapore Turf Club (STC) is Singapore's only horse racing club. A destination that has consistently been reinventing experiences and bringing fun and excitement to the communities, STC's sprawling 124-hectare Kranji grounds can support both large-scale and intimate sporting competitions and lifestyle events. Featuring world-class horse racing tracks and a 30,000-seater Grandstand, STC is also home to the Singapore Turf Club Riding Centre, which houses an Olympic class equestrian arena purpose-built for the 2010 Youth Olympic Games in Singapore.
A proprietary club of the Tote Board, STC's focus is on cultivating horse-racing as a prestige sport and creating a first-class horse-racing community in Singapore with integrity and professionalism. STC is also a learning hub for specialised equestrian skills, as well as a provider of impeccable stabling, horse training and horse event support. For more information about STC, please visit www.turfclub.com.sg.
About Club Rainbow (Singapore)
Club Rainbow (Singapore) (CRS) is a registered Singapore Charity of Institution of Public Character status (IPC). Since 1992, we have been supporting and empowering over 1200 children with chronic illnesses and their families by providing compassionate relevant services. Armed with the firm belief that every child deserves equal opportunities to lead a fulfilling and independent life, CRS adopts a holistic approach based on five core support pillars to help the children and their families in their journey towards becoming empowered, independent individuals and active contributors to society. For more information about CRS, please visit www.clubrainbow.org. 
About Corporate Alliance for Good Ltd
"Corporate Alliance for Good Ltd" is a non-profit company limited by guarantee. It was incorporated on 5th May 2021. Presently it is led by directors, Png Bee Hin, Melvyn Mak and Wilson Tan, with Wilson serving as the CEO.
CAforGood believes in coming together to do good using innovative solutions and smart technology. Rallying businesses and companies to come together, we aim to serve needy people in partnership with organisations in a synergistic and sustainable way.
The focus of CAforGood will be creating opportunities for livelihood, especially for needy young people, through innovative smart-technology solutions such as edu-tech, travel-tech and agri-tech platforms or skills development frameworks.
To build capacity and competency, we aim to provide on-line and off-line training and educational opportunity for people who need a helping hand, from special needs adults to ex-offenders in genuine need of a second chance. For more information, please visit https://caforgood.org/