21 March 2023

Singapore Racing Awards 2022 crowns Lim's Kosciuszko Singapore Horse of the Year
Lim's Kosciuszko sweeps two other awards - Champion Sprinter and Champion Four-Year-Old
The Singapore Racing Awards celebrated 2022 racing season's best at the Derby, Singapore Turf Club on Tuesday, 21 March 2023, with 13 awards given out at the gala dinner.  
Singapore Turf Club Chief Racing Officer Dayle Brown said, "We're pleased to be able to once again host the Singapore Racing Awards ceremony in celebration of the efforts and contributions from key industry players and equine athletes."
"Our heartiest congratulations to all the winning owners, trainers and jockeys. Our collective passion and love for the sport of horse racing continue to steer us in a new world.
"The new season will be one to look forward to, with the doubling of feature races and the re-introduction of popular race series which will further test the tenacity of our local champion horses, as well as new and talented youngsters."
Horse of the Year Award
Lim's Kosciuszko was crowned the Horse of the Year and also bagged awards in the Champion Sprinter and Champion Four-Year-Old categories.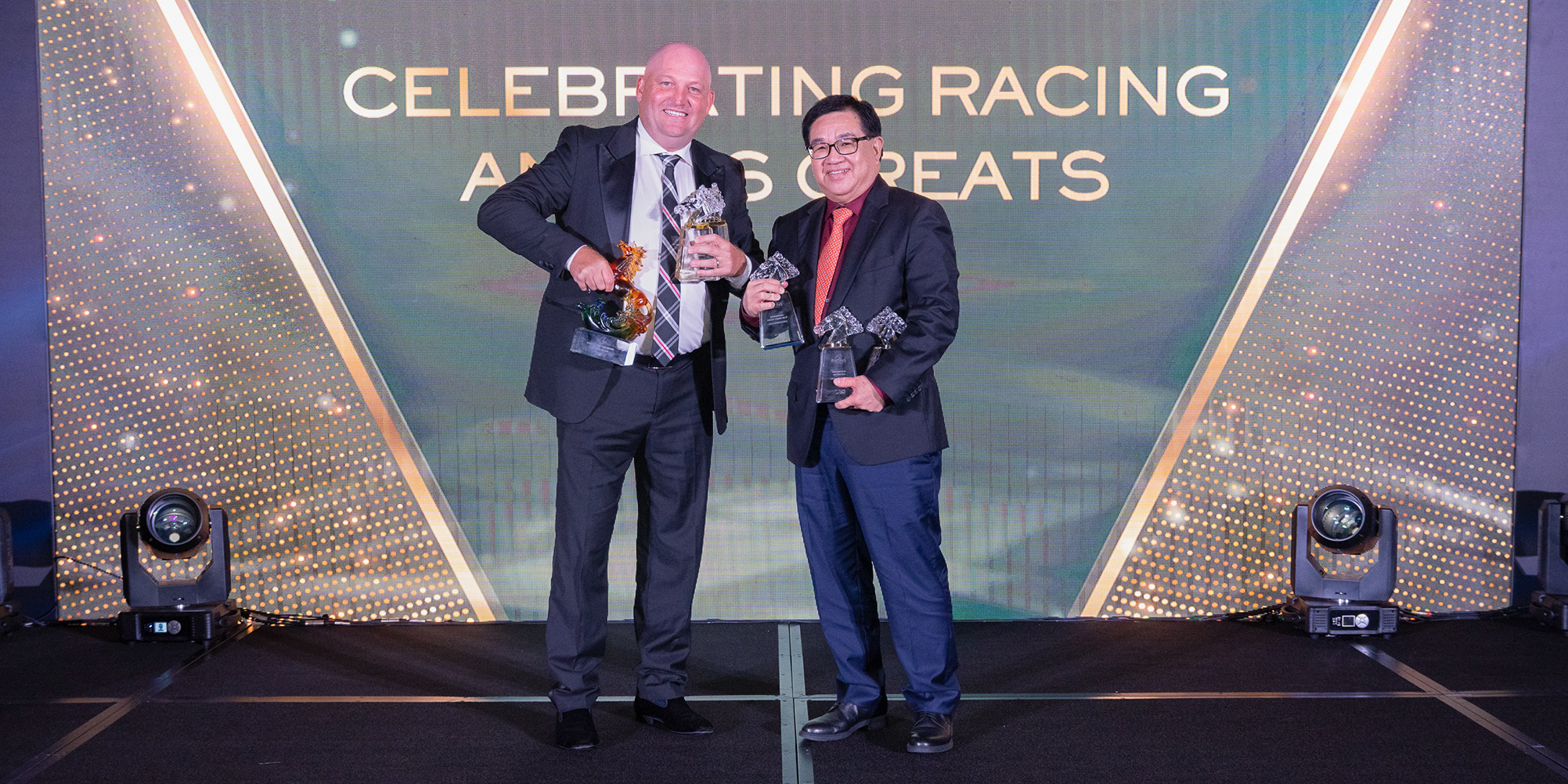 Trainer Daniel Meagher (left) and owner Mr Lim Siah Mong all smiles after bagging six awards between them at the Singapore Racing Awards 2022.
Unbeaten at his first four runs in 2021, the Daniel Meagher-trained Lim's Kosciuszko picked up where he left off with another four consecutive wins in 2022. He suffered three defeats before bouncing back with a first Group 1 feather in his cap, the Singapore Derby (1800m), which cemented his new status as the Champion Four-Year-Old.
Barely a month later, Lim's Kosciuszko showed his versatility by scooping up the Group 1 Lion City Cup (1200m), that earned him the gong for the Champion Sprinter award.
Meagher was elated with the son of Kermadec's achievement.
"I was hopeful before (the award ceremony), but to achieve what he has done, we are all very proud of him," he said.
"He represented Singapore in Hong Kong, and even if it was disappointing then, the horse has improved and came back to win a Group 3 (Merlion Trophy) this year.
"It's a wonderful night for the team, the owners and the two horses, and to win six awards (two awards for Lim's Stable, three awards for Lim's Kosciuszko and one award for Lim's Lightning) is great. Well done to the Club for getting everybody back together at the function."
Other Equine Awards
Stablemate and 2021 Singapore Horse of the Year Lim's Lightning retained his title as Champion Miler after he outclassed a stellar field in the Group 1 Kranji Mile (1600m) while the Champion Stayer award went to Group 1 Singapore Gold Cup (2000m) winner Hongkong Great.
Thanks to his four wins on the Polytrack, Lucky Jinsha was without much surprise crowned Champion Polytrack Horse.
For sweeping the two legs of the Singapore Three-Year-Old Challenge, the Group 3 Singapore Three-Year-Old Sprint (1200m) and the Group 2 Singapore Three-Year-Old Classic (1400m), rising star Golden Monkey was a hot favourite for the Champion Three-Year-Old title, which he deservedly won.
The winners for the seven equine awards, including the coveted Horse of the Year award were determined by votes from a panel of 10 external and 10 internal judges based on a list of nominees shortlisted for their performances in Group races and Class 1 / Kranji Stakes A races.
Personality Awards
Since branching out on his own in 2019, Australian trainer Tim Fitzsimmons bagged his first Champion Trainer title on 65 wins.
On the other hand, Manoel Nunes is a familiar face at such award nights. The Brazilian took the Singapore jockeys' premiership honours from 2014 to 2016, and his sensational tally of 81 wins last year saw him finish well clear of Wong Chin Chuen. On 43 wins, the Malaysian rider claimed the Champion Resident Jockey award for recording the most number of wins among the resident jockeys.
Penang apprentice jockey Yusoff Fadzli was crowned Champion Apprentice Jockey for the first time thanks to a haul of 22 winners.
Already a multiple-champion owner, the Lim's Stable, who races both Lim's Kosciuszko and Lim's Lightning, won yet another Champion Owner (by Prizemoney) award. They also shared the honours with Buffalo Stable in the Champion Owner (by Wins) category.
Five out of the six personality awards were determined by their number of wins in the season, but the Champion Owner (By Prizemoney) award was determined by the total prizemoney won by the owner's horses in the races.
The full list of winners is as follows:

Champion Apprentice Jockey

YUSOFF FADZLI          

Champion Resident Jockey

WONG CHIN CHUEN

Champion Jockey

MANOEL NUNES

Champion Trainer

TIM FITZSIMMONS

Champion Owner (By Wins)

 

BUFFALO STABLE,

LIM'S STABLE (tied)

Champion Owner (By Prizemoney)

LIM'S STABLE

Champion Three-Year-Old

GOLDEN MONKEY

Champion Four-Year-Old

LIM'S KOSCIUSZKO

Champion Polytrack Horse

LUCKY JINSHA

Champion Sprinter

LIM'S KOSCIUSZKO

Champion Miler

LIM'S LIGHTNING

Champion Stayer

HONGKONG GREAT

Horse of the Year

LIM'S KOSCIUSZKO
About the Singapore Turf Club

Founded in 1842, Singapore Turf Club (STC) is Singapore's only horse racing club. A destination that has consistently been reinventing experiences and bringing fun and excitement to the communities, STC's sprawling 124-hectare Kranji grounds can support both large-scale and intimate sporting competitions and lifestyle events. Featuring world-class horse racing tracks and a 30,000-seater Grandstand, STC is also home to the Singapore Turf Club Riding Centre, which houses an Olympic class equestrian arena purpose-built fo r the 2010 Youth Olympic Games in Singapore.
A proprietary club of the Tote Board, STC's focus is on cultivating horse-racing as a prestige sport and creating a first-class horse-racing community in Singapore with integrity and professionalism. STC is also a learning hub for specialised equestrian skills, as well as a provider of impeccable stabling, horse training and horse event support. For more information about STC, please visit www.turfclub.com.sg.