10 November 2022

Singapore Turf Club partners Runninghour to jointly promote an inclusive Singapore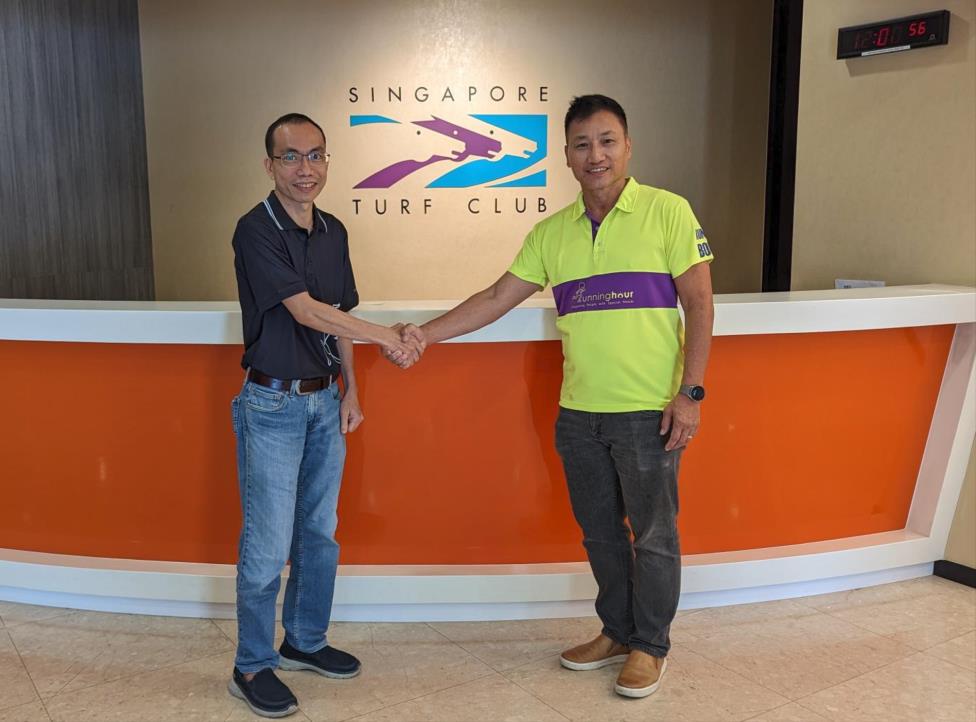 From left: Lim Chiap Song, Head of Community Engagement and Partnerships, Singapore Turf Club and John See Toh, Chairperson, Runninghour Co-Operative Limited shake hands to mark the new partnership
Singapore Turf Club (STC), Singapore's only horse racing club for racing, sports and recreation, today announced its partnership with Runninghour, an inclusive sports co-operative that promotes the integration of Persons with Special Needs (PWSNs) through sports, to collaborate in support of the local PWSNs community and nurture an inclusive Singapore

With STC's onboarding as Runninghour's Corporate Partner under the partnership, Runninghour has relocated its head office and operations to STC, providing the team with a permanent space to better organise and run inclusive sports and outdoor initiatives. Runninghour will also enjoy direct access and usage of the facilities on the sprawling 124-hectare Kranji grounds of STC, enabling them to introduce a greater variety of wellness programmes, such as Zumba classes, for PWSNs and volunteers. Other projects and activities that will be available include a series of SkillsFuture workshops and a cycling academy, all aimed at promoting integration of PWSNs with the wider community.
"We are delighted to take our relationship with Runninghour to the next level. STC has a long history in partnering various community groups to support a host of social causes and the relocation of Runninghour onto our premises expands the depth of STC's outreach efforts for the special needs community. As a destination for sports and recreational activities, STC will continue to strike strategic partnerships with community partners, leveraging our vast grounds and unique facilities to help promote social cohesion and inclusion. We look forward to working with Runninghour to curate more exciting activities that help to embrace greater diversity and inclusivity in Singapore," said Lim Chiap Song, Head of Community Engagement and Partnerships, Singapore Turf Club.
"For over a decade, Runninghour has been dedicated to promoting the well-being and integration of PWSNs through sports. We are grateful to have Singapore Turf Club onboard as a corporate partner this year and their support will undoubtedly go a long way in helping us move forward with our mission. With a permanent office on STC premises and access to the facilities on-site, the team can now push out more sports and wellness programmes for PWSNs and volunteers by leveraging on STC as a venue. This includes our annual Run for Inclusion 2022 and we are extremely excited to see the race making its comeback as a physical event at STC's iconic grounds under this new partnership," said John See Toh, Chairperson, Runninghour Co-Operative Limited.
Into its eighth edition, the annual Run for Inclusion 2022, organised by Runninghour, will take place at STC for the first time, using the grounds of STC's world-class racecourse to create an experiential and memorable event.
Held on 3 December 2022 from 4.30pm, this year's Run for Inclusion will be graced by Guest of Honour, President Halimah Yacob. As the nation's largest inclusive mass running event, participants will run alongside PWSNs who are hard of hearing, physically, visually and intellectually challenged, as well as persons with autism or undergoing mental recovery across different race categories.
As part of the club's continued commitment to community engagement, STC is forming an employee and family contingent to participate in the race and serve as race day volunteers. The STC contingent is committed to cover at least 180 kilometres of the race as a team to commemorate the club's 180th anniversary, and the club has pledged to donate to Runninghour $180 for each kilometre covered by the contingent.
Race participants will also receive a commemorative race medal that is recycled from used horseshoes. Runninghour beneficiaries and STC volunteers jointly cleaned the used horseshoes, giving them a new shine and turning them into unique and lucky race medals which will be a meaningful and memorable keepsake for Run for Inclusion 2022 participants.
To sign up for Run for Inclusion 2022, please visit https://www.runninghour.com/event-details/run-for-inclusion-2022. For enquires on the event, please email raceinfo@runninghour.com.
About the Singapore Turf Club
Founded in 1842, Singapore Turf Club (STC) is Singapore's only horse racing club. A destination that has consistently been reinventing experiences and bringing fun and excitement to the communities, STC's sprawling 124-hectare Kranji grounds can support both large-scale and intimate sporting competitions and lifestyle events. Featuring world-class horse racing tracks and a 30,000-seater Grandstand, STC is also home to the Singapore Turf Club Riding Centre, which houses an Olympic class equestrian arena purpose-built for the 2010 Youth Olympic Games in Singapore.
A proprietary club of the Tote Board, STC's focus is on cultivating horse-racing as a prestige sport and creating a first-class horse-racing community in Singapore with integrity and professionalism. STC is also a learning hub for specialised equestrian skills, as well as a provider of impeccable stabling, horse training and horse event support.
For more information about STC, please visit www.turfclub.com.sg.
About Runninghour Co-Operative Limited
Runninghour was co-founded on 18 April 2009 by Mr. John See Toh and Ms. Chan Jan Siang with the aim of providing an avenue for mildly-intellectually challenged youths to participate in sports and integrate with mainstream society. In 2012, the club expanded to include visually challenged runners. Recognising that the club has the potential to create positive impact in more lives, Runninghour officially registered as a co-operative on 16 May 2014, to promote the well-being and integration of persons with special needs (PWSNs). Besides organising yearly running events, the co-operative holds regular sports activities such as Fun & Fitness (Tues), Virtual Yoga (Wed), Zumba (Thurs, including one held at the Singapore Turf Club on every first Thurs of the month), runs at different parts of Singapore (Sat), and monthly hikes (every last Sunday of the month). All activities are complimentary for volunteers and PWSNs. For more information, please visit https://runninghour.com/.